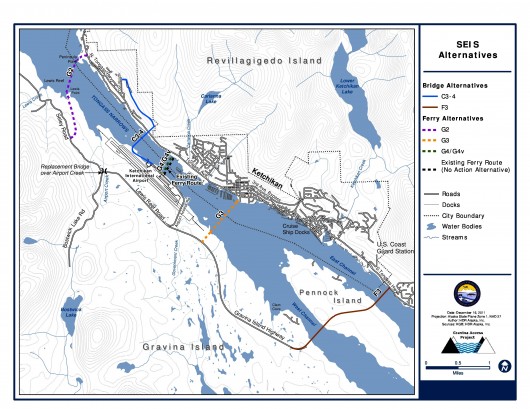 Options for bridges and ferries are in the newest Gravina Access study released Friday by the state Department of Transportation, with up-front construction costs ranging from $23 million for the cheapest ferry option, to $276 million for the most expensive bridge plan.
While construction costs for both bridge options are far greater than any of the ferry options, all of the ferry options show significantly higher long-term costs, due to vessel maintenance and replacement needs.
Even doing nothing would cost more over time than building a bridge, according to the draft Supplemental Environmental Impact Statement.
Ketchikan Gateway Borough Manager Dan Bockhorst said he hasn't yet read all 690 pages of the draft SEIS, but he's waded through some of it. He said he noticed the lifetime cost difference between ferries and bridges.
"Two and a half years ago, the Assembly expressed preference for the two bridge options," he said. "They are still under consideration. They remain the cheapest in terms of lifetime costs for access to Gravina by far. The matter will be presented to the Assembly for further consideration. It will be places before the Assembly at the first meeting in August."
Here's a brief rundown on each of the bridge options:
Alternative C3-4 crosses Tongass Narrows north of city limits, starting at Don King Drive — the road to Wal-Mart. It would connect to an improved road on Gravina, and then lead to the existing airport parking lot. Construction costs would be $223 million, with a lifetime cost of $335 million.
Alternative F3 is a two-bridge option that also crosses Pennock Island. It would start just south of the Coast Guard base, to a road across Pennock, and a high bridge would then connect to the end of the existing Gravina Highway. The higher bridge would be needed to provide access for cruise ships. In addition, the channel would need to be widened and dredged for cruise ships to pass safely through at low tide. Construction costs would be $276 million, with a lifetime cost of $531 million.
The bridge options each would include a $5 toll, which would be reduced to $2 after a few years. Passengers already pay $5 per person to ride the airport ferry.
That doesn't cover the ferry's expenses, though, and Bockhorst affirmed that ferries cost more over time.
"The ferry systems are very expensive to operate and maintain," he said. "And they will continue to be so unless we come up with an alternative."
That assertion is bolstered by the DOT study. It shows that the no-action alternative, which would keep current ferry service with no upgrades, would cost an estimated $590 million over 75 years, which is $60 million more than the lifetime cost of a bridge.
Not including the no-action alternative, here's a brief rundown of each of the proposed ferry options:
Alternative G2 calls for a new ferry crossing north of town at Peninsula Point, crossing to Lewis Point and connecting to Seley Road. This would require two new terminals and two new ferries. Initial costs would be $81 million, with lifetime costs of about $880 million.
Alternative G3 would provide two new ferry terminals and two new ferries, crossing from The Plaza mall to just south of the airport. The initial cost would be $70 million, with a lifetime cost of about $810 million.
Alternative G4 would provide two new terminals and two new ferries right next to the existing terminals. Up-front costs would be $62 million, with a lifetime estimated cost of $756 million.
Alternative G4v would provide improved facilities, but no new ferries or terminals unless demand increases. The initial cost of that option is $23 million, with a lifetime cost of about $712 million.
All of the ferry options keep the current ferry service intact. They also all include new waiting facilities, restrooms, expanded parking, lighting, covered walkways and shuttle vans.
DOT spokesman Jeremy Woodrow said the department has not included its own recommendation in this study.
"Part of the purpose of the comment period is for the public to review, comment, provide their recommendations and thoughts, and that's how the department will use that information as a basis for coming up with a preferred alternative for the final SEIS," he said.
The point of the project is to improve access to Gravina. Woodrow said each of the alternatives would achieve that that in some way.
He said there will be a public meeting in Ketchikan in mid-July. DOT officials hope to have a recommendation by fall, with a final SEIS by spring of 2014.
The public comment period lasts through Aug. 13. An open house with information about the study is set for 11 a.m. to 5 p.m. July 17 at the Ted Ferry Civic Center, with the public hearing from 5 p.m. to 8 p.m. at that same location.
To see the study and for more information, go to http://dot.alaska.gov/sereg/projects/gravina_access/
The project to improve transportation between Ketchikan's Revillagigedo and Gravina islands has been an ongoing topic for many years. It appeared at one time that the community's preferred alternative – two bridges spanning Pennock Island – would be built, when a federal earmark was approved specifically for the project.
However, in response to a national backlash against earmarks in 2007, then-Gov. Sarah Palin stopped that project, nicknamed the Bridge to Nowhere, and directed the Department of Transportation to find a cheaper alternative.