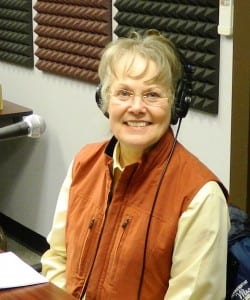 State Representative Peggy Wilson met with about 10 local residents at a public forum yesterday. Among some Ketchikan-specific issues, she also discussed the statewide debate over redrawing district lines. That debate may be influenced by today's U.S. Supreme Court decision on the 1965 Voting Rights Act.
Although Wilson spent most of the hour and a half meeting with the public addressing their comments and concerns, she also took some time to express growing frustration over the ongoing redistricting debate throughout the state.
"It's a little frustrating to me because it's not easy to get thrown into a brand new district," Wilson says. "And I hate the thought that I might have to start over again in a new district. And it sounds like Ketchikan has decided they don't Wrangell in their district. I'm totally up in the air, I'm just going to have to go with the flow and see what happens."
Wilson came to represent Ketchikan after Alaska's 1st District was combined with her native Wrangell's 2nd District, following the 2010 census. But she may soon find herself with a different constituency.
The state has been scrambling to redo district lines again after an Alaska Supreme Court ruling throwing out the post-census map. The court said that Alaska must follow its own constitution, calling for economic and geographic balance, first, and federal Voting Rights Act regulations second.
That process may further be compounded by this week's U.S. Supreme Court decision striking down a key provision of the 1965 Voting Rights Act. The Alaska Redistricting Board has been cautious in settling on a new plan before the federal court made its decision.
Alaska, with its large Native population, was subject to Section 4 of the Voting Rights Act, which called for racial fairness in state-level districts. Now that the provision has been struck down, Alaska's Redistricting Board is free from federal oversight in how it chooses to proceed.
Wilson also addressed a number of Ketchikan-specific issues at Monday's public meeting. She talked about the Gravina Access Project, which has been stalled for many years. The plan, infamously known for originally including the ill-fated "Bridge to Nowhere," has entered a new phase.  The state just released a draft Supplemental Environmental Impact Statement offering six different plans, and public comment will be taken through mid-August.
Although Wilson says she does support plans to build a bridge across the Tongass Narrows between Gravina and Revilla islands, she worries about how much the project will cost the state. Citing declining revenue due to Alaska's recent oil tax overhaul, she says the state may have to rethink how such infrastructure projects are funded.
"I personally think that the state needs to start looking at whether if they're going to start building things, if they're sustainable, because the state can't do everything," Wilson says. "We used to try to do that, but we can't anymore. We can't afford to do that. We have to try to look at what we can do to help people the most that we don't have to continue to do that."
Wilson was among the legislators who voted in favor of the state's recent oil tax revision.
Though Wilson and the constituents in attendance began discussing additional plans for Gravina jokingly, the representative hinted at her seriousness in taking a page from Wrangell when it comes to that island's development.
"There's people who have decided to retire in Wrangell just because there's a golf course," she says. "I think it'd be a big asset to the community if they had access to a golf course."
Representative Wilson also floated an idea which she thought might gain some traction in the next few years with increasing water shortages in the Lower 48.
"One thing we have that the Lower 48 doesn't have is plenty of water," Wilson says.
"A water pipeline, or something?" she suggested. "Is that too far-fetched?"
The idea to build a water pipeline south to the rest of the United States is nothing new. Former Alaska Governor Wally Hickel was known for proposing megaprojects, such as the water pipeline to help develop the new state. That project never gained serious traction.