A strange white bird was photographed recently as it was feeding from saltwater tidepools on the beach near Kake. KRBD found a local expert to identify the bird, which turns out to be a rare sight in Alaska, especially in Southeast.
Over the past three decades or so, there have been around 10 confirmed sightings in Southeast Alaska of the snowy white great egret.
In early June, near the Southeast community of Kake, Jim Baichtal snapped some photos of the 11th.
Baichtal, a geologist with the U.S. Forest Service, said he first considered whether the bird might be an albino heron. But with its black legs and other distinctive features, he decided it was some kind of egret.
"I've worked in the South, and I thought I knew what it was, but knew that whatever that bird was, it was a long ways from home," he said.
Baichtal sent photos of the bird to an expert he knew, but didn't hear back – turns out the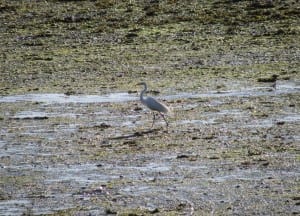 expert was out in the field. Ketchikan has numerous bird experts, too, including Steve Heinl, who works for the state Department of Fish and Game. After looking at a couple of Baichtal's pictures, Heinl quickly identified the species, and said it's rarely seen in the 49th state.
"On the West Coast, they breed as far north as Central Washington," he said. "So this bird at Kake is very far out of range and it's a very rare find for Alaska."
Heinl said he's never seen one in person himself, and there are no great egret sighting records for Ketchikan.
The great egret does resemble a great blue heron, which could be considered its cousin, and is a common bird in Southeast Alaska.
"They're not quite as big, but they're a pretty big bird, and they're entirely white with black legs and a yellow bill, so they're pretty unmistakable," he said.
Baichtal, who is based on Prince of Wales Island but had been in Kake for geology mapping work, said the bird was in that area at least three days. He adds that it seemed less skittish than the average heron.
"There was a large family having a barbecue on the beach, and the kids were running about and playing on the lower intertidal zone, and it seemed to not mind that much," he said.
Baichtal said he was able to walk within about 40 yards of the bird. He notes that when it did take off, it didn't squawk the way herons often do.
Because of their beautiful feathers, great egrets were hunted nearly to extinction in the late 19th century. That inspired some of the first laws in the United States to protect birds. The great egret also is the symbol of the National Audubon Society.