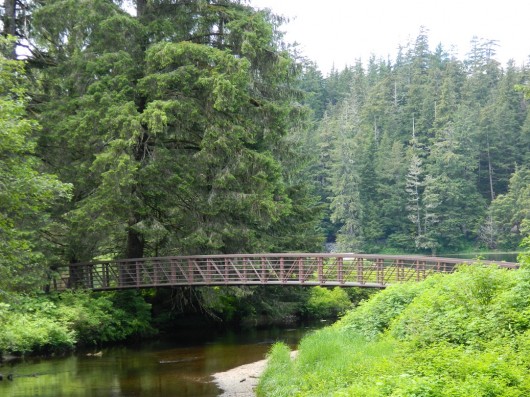 A potentially dangerous bear has prompted the temporary closure of Ketchikan's Ward Lake trail and Signal Creek Campground.
Cathy Tighe, recreation, wilderness and lands supervisor with the Ketchikan-Misty Fiords ranger district, said the situation developed quickly over the weekend.
"There's been a bear or possibly two based on descriptions that have been raiding a lot of campsites this spring and approaching people," she said.
Tighe said there have been no injuries so far, but some property, such as coolers, has been
damaged. These situations tend to escalate, so the Forest Service, working with the state
Department of Fish and Game, decided to close parts of the popular Ward Lake, until the problem bear can be captured.
The closed sections include the campground, and the trail on the back side of the lake. A section of trail that's right next to the road remains open, along with other nearby trails. But even though they are open, Tighe said hikers should still use caution, particularly on the trails around Ward Lake.
"Pretty much everywhere we go is bear habitat," she noted. "We had a bear that was getting into food that was left out on the tables, and things there at the campground, so it's becoming very habituated to people and was not afraid of people, and that was causing a lot of problems."
Tighe said the bear was walking within about 10 feet of humans. She said relocating problem bears has been shown to not work, so once it's captured, it will be killed.
"When you try to move them, they've been known to travel hundreds of miles to get back to what they're used to," she said. "So unfortunately, it means a bear is going to get destroyed. "
To reduce the potential for future bear encounters, Tighe recommends that campers never leave food unattended, even for a short time. She said the Signal Creek Campground will have food lockers available for next season, but in the meantime, camp food should be locked away in a closed vehicle or a secure hard-sided container.
Tighe anticipates that the closed sections of Ward Lake will reopen by Wednesday.