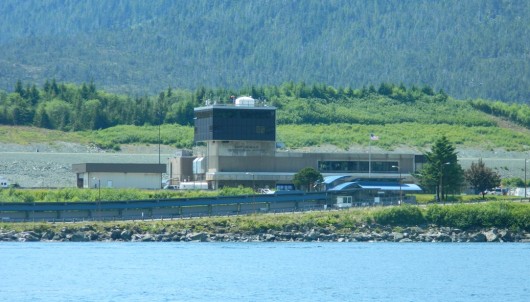 While the City of Ketchikan has chosen to endorse one of the Gravina Access ferry options, the Ketchikan Gateway Borough Assembly is scheduled Monday to vote on a resolution in favor of either bridge option.
While rejecting all the ferry options outright, information provided with Monday's proposed Assembly motion does detail some concerns with both of the bridge designs.
The F3 alternative comprises two bridges starting south of city limits and spanning Pennock Island. The first segment would be a low bridge, so large ships would no longer be able to use that part of the channel. The second segment from Pennock to Gravina is a high bridge, allowing most large ships to pass through, but that channel would need dredging. That option is the most expensive.
The C3-4 alternative is a single bridge that would start on the north end of city limits near Wal-Mart. According to the Assembly packet information, it wouldn't affect cruise traffic, although city officials and marine pilots have said otherwise.
The borough information does express concern about that bridge's potential conflict with air traffic, and the resolution calls for approval by the Federal Aviation Administration if the state Department of Transportation decides to move forward with that plan.
Like the City Council's approved comments, the borough's resolution calls for no tolls for residents to access the airport.
The Borough Assembly meeting starts at 5:30 p.m. Monday in Assembly chambers at the White Cliff building. Public comment will be heard at the start of the meeting.