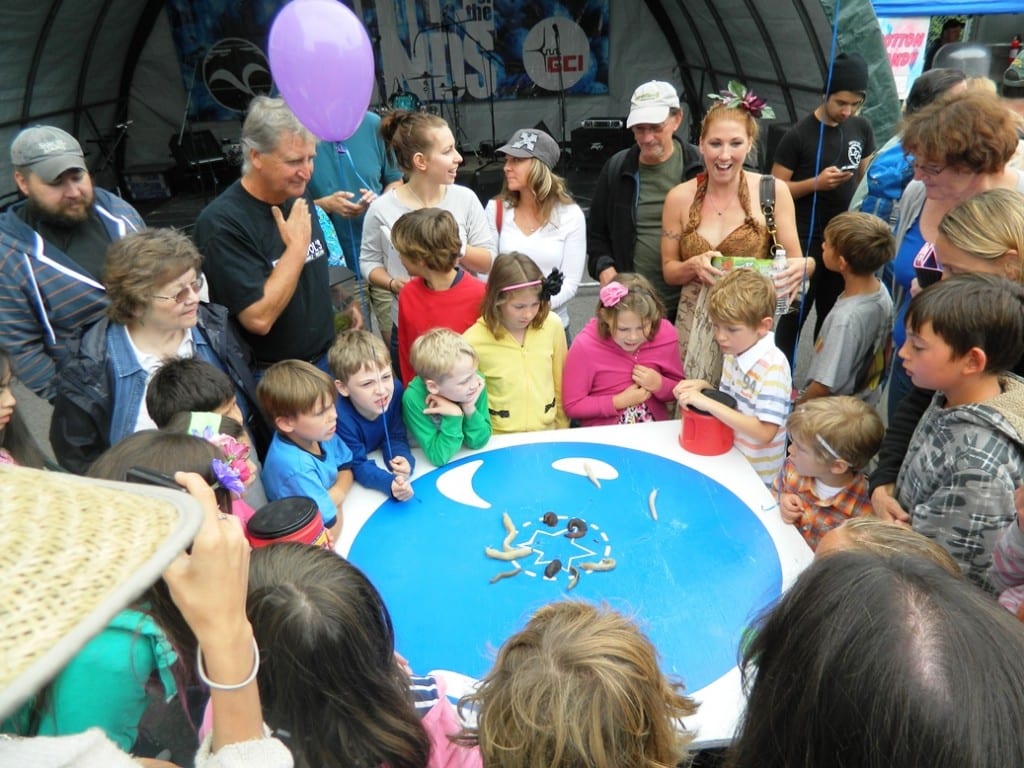 The 38th annual Blueberry Arts Festival took place in Ketchikan this weekend.
Estelle Cowie is one of the volunteers at the weigh-in table, helping out eager competitors, signing up for one of the festival's most popular events.
"Let's see here, we have Fat Guy and Eyeball, Slivers and Rudy, Gooey and Cannonball," says Cowie.
As a volunteer with the Alaska Department of Fish and Game, Cowie helped to organize the slug weigh-in and race at the Blueberry Arts Festival. She checks in the gastropods, each accompanied by a handler 12 years old or younger.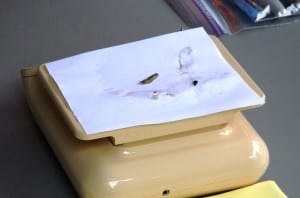 More than 50 of the… graceful… creatures participated in the race. The slimy racers ranged in weight from a measly 0 grams to a hefty 42. That slug, Streak, won the pre-race slug weigh-in contest.
Estelle, who definitely knows her slugs, says that believe it not, weight isn't so much a factor in slug speed. Instead, there's another surprising trait that seems to make a difference: the slug's color.
"In past races from what I understand it doesn't matter, the size," Cowie says. "I have heard a rumor that the white slugs tend to win more."
For what it's worth, the trio of slugs that made it into the final heat were all white. And if the eager cheers of the slug handlers is any indication, it was a fierce contest:
The three finalists were named Happy, Bee, and Arthur (no, really). Happy, weighing in at a modest 20 grams, came out on top. His handler was Jaron Bohmer.
The Blueberry Arts Festival, which began with the annual Pet and Doll Parade on Friday and ended with a poetry slam on Sunday, wouldn't be complete without the food. On Saturday, vendors lined Main Street near the Methodist Church and served up a dizzying array of Ketchikan's finest culinary delights, including fry bread and lumpia.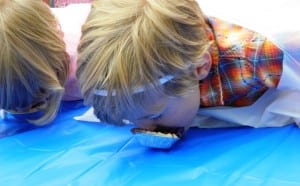 But really, what's the Blueberry Festival without blueberries? There were plenty to be had, especially at the pie eating contest, which had many blueberries to go around…much of which ended up on faces.
That competition was split into a number of heats based on age.
First place in the seven and under category was Laurel Dorman. Vincent Perro took the 8-12 title. Sam Weston won the teenage bracket for the second year in a row, and Alex Troutman bested all others in the adult group.
There were also opportunities for some of Ketchikan's…. grizzlier citizens to compete in at Blueberry.
The annual Beard and Mustache Competition at Mike's Elbow Room pitted facial hair on facial hair to decide who is the manliest man in Ketchikan. To be expected, it was a pretty hairy group of contestants. The judges of the event were less so.
The categories in the contest were Most Artistic, Wildman and People's Choice.
The Wildman award went to Jason Palmer, who wore his beard with twigs of blueberries. Jeremy Wills took most artistic, his beard adorned with shells and beads; he thanked his wife for helping him craft his winning presentation.
People's Choice was Tad Dooley. His beard and 'stache combo was dyed blue in celebration of the blueberry festival. A seasonal worker with a snorkeling outfit in town, Tad has been growing his beard for six months. He says that getting such great feedback makes the whole process worth it.
"I asked a few people to come and I thought it'd be fun, a few people to cheer. And everyone showed up and cheered, it really was wonderful," Dooley says. "There was a process to it. It took a lot of time, so I appreciate people enjoying it."
The winners of the competition were awarded shaving cream and styling products. It was unclear at airtime whether friends and family of the winners made them shave off their beards.