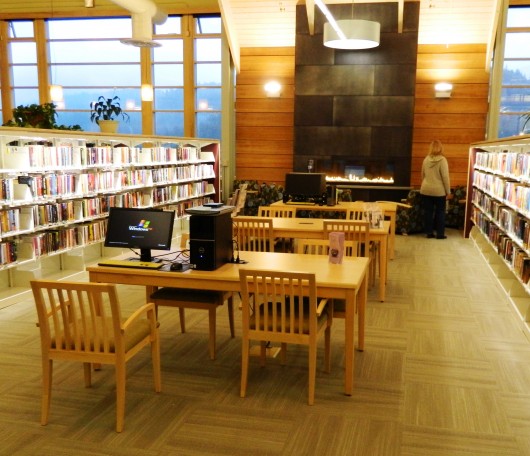 Mention the new Ketchikan Public Library to local residents, and the usual response is: "Isn't it beautiful?"
Well, that insider opinion now has been confirmed by an outside, unbiased third party. The Ketchikan Public Library, which opened early this year, has been chosen for the American Libraries Magazine "2013 Library Design Showcase" edition.
Library Director Linda Lyshol says American Libraries is one of her favorite journals, and she was reading through that magazine a few months ago.
"I just happened to see that it was time to submit a form for the library design showcase, and thought, 'Oh my gosh! We just finished this library, we need to submit it,'" she said. "So I contacted Tim Whiteley, and he said, 'Well yeah, of course we want to do it.'"
Whiteley is part of Bettisworth Welsh Whiteley Architects, the team that designed the library. Lyshol says the architects had planned to have a professional photographer shoot the building anyway, the deadline for entries just gave them a tighter time frame to get the Anchorage-based photographer here on a nice day.
"The form was due on the 31st of May, so somewhere in May, a photographer came," she said. "We were trying to get him when it was sunny, so we were like, 'Travel now.' 'No!' 'Travel now.'"
The contest limits applicants to two categories, and Lyshol says she chose to focus on the library's expanded space for children and teens, and the unique design. She says she got the application in just under the deadline, and recently heard that the Ketchikan Public Library was selected in the unique design category.
"It's one of those things where, of course it's an honor to be in it, but it's also really great to just look at it and see the different things that people have done with their libraries," she said.
Lyshol says the magazine is well-read among librarians, with a circulation of about 65,000, and the design issue is particularly popular. That issue will feature one photograph of
Ketchikan's library.
"They chose a photo, as you are standing by the fireplace looking out the windows over the mountains, and you can see the nice, comfy reading chairs and then the wood bookcases and wood columns, and of course the mountains," she said. "And it was an absolutely perfect day, so, yes, they were showing off the mountains."
The Ketchikan Public Library will be sure to show off its inclusion in the magazine, and Lyshol says they'll buy extra copies, too. That edition will be published in September.
(This story has been corrected from the original version.)