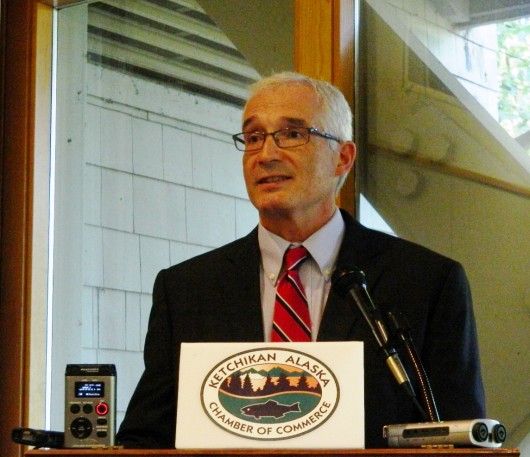 Crime is down in Ketchikan. Or, at least, criminal cases are down, according to Ketchikan Superior Court Judge Trevor Stephens, who was the main speaker at this week's Greater Ketchikan Chamber of Commerce lunch.
Judge Stephens started off with a description of the Alaska court system, and then a rundown on Southeast Alaska's courts. For the region, there are judges only in Juneau, Ketchikan and Sitka. Smaller communities have magistrates for day-to-day operations, and then judges from the "Big Three" travel to those towns to take care of big issues.
Of those smaller communities, "Craig is by far the busiest court outside of the big three," he said. "I think it handles more cases than Wrangell and Petersburg put together, or a comparable number. It's an extremely busy court and it's one of the locations that has a full-time magistrate judge."
Stephens also noted some interesting statistics. He said that criminal cases in Ketchikan spiked in 2002, with 2,019 cases filed. As of last year, that number dropped about 50 percent.
For this year, "at this point, looking at what number we're at now, and it's almost the end of the eighth month, I don't think we're going to make 1,000 cases this year," he said. "That's good news for the community that there's been a substation reduction – I can't say in crime… but it's indicative of a reduction in crime."
Civil cases, though, are up about 30 percent, Stephens guessed that increase is related primarily to more domestic relations cases.
He also noted that mental health commitment cases are increasing. Stephens says it's fortunate that the Ketchikan Medical Center offers mental health evaluations, and Gateway Center for Human Services under Akeela has on-call clinicians who respond when needed.
"I'm hopeful that the next step that we'll take in this community is to develop, build a treatment facility so that when somebody is subject to a 30-day order, they're not sent on a plane to Juneau, to Bartlett, which is the nearest such facility, or to API (in Anchorage) if Bartlett's not available," he said.
Another trend Stephens noted is a change in the type of drug cases seen in the courts. A few years ago, it was marijuana, Oxycontin and cocaine. Now, he said, it's marijuana and heroin.
Looking toward the future, Stephens said that very soon, the court system will use electronic filing for all cases.
"Southeast Alaska, has taken a first step in this direction," he said. "In 2011, the Alaska Supreme Court gave the option to … presiding judges issuing an order that allows for e-filing. We're the only district that's done it. We've been doing it since November of last year."
Stephens also spent some time talking about jury duty.
"The first thing I want to say is, the local folks have no control over who gets called in for jury service," he said, as the audience laughed.
Jury duty is a topic of interest to most Alaskans, because with the state's small population, citizens are called often to serve. On top of that, the smaller a community's population, the longer the term of service. In Ketchikan, trial jurors serve for one month. But on Prince of Wales Island, they serve a three-month stint.
Stephens said he's part of a statewide committee to look at improving jury service. One topic will be the best way to notify jurors if there is a trial. Now, jurors must call a telephone number and listen to a message. He said that could change to notification by email or through a website.
Stephens is the presiding judge for the First Judicial District. Before he was appointed to the bench, he worked as a private lawyer and was Ketchikan's district attorney.