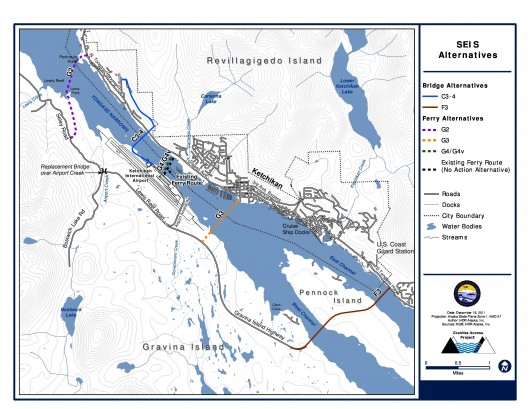 In a symbolic move, the Ketchikan Gateway Borough Assembly voted Tuesday to officially endorse two bridge options offered in the state's most recent Gravina Access study, but added a statement that improved ferry service would be an acceptable alternative.
Assembly Member Mike Painter effectively sums up why Ketchikan's borough assembly has basically given up on a bridge to Gravina Island, but won't completely abandon the idea.
"Hell will probably freeze over before we ever see a bridge, but we don't want to lose sight of that quest," he said.
For those who are new to the issue, this is the long-planned, much-discussed, often-ridiculed, so-called "bridge to nowhere" project.
Ketchikan officials have asked for a bridge for many, many years, citing the need for better access to the airport, which was built — by the state — on neighboring Gravina Island. It's a short ferry ride, but many complain that it's inconvenient, and that without a bridge, further development of Gravina Island will be challenging.
Others argue that ferries can work great, as long as they are dependable and available when needed. Right now, Ketchikan runs two daytime ferries in the summer, and one during winter. And there is no late-night ferry service. In addition, a ferry ride costs at least $5, and if you want to take a vehicle over, it's quite a bit more.
A request added to the borough's resolution was for the state to figure out how to make ferry rides more affordable, as well as more convenient. One idea is an endowment, established with some of the original federal funding intended for the project. Assembly Member Agnes Moran talked about the idea the next day, and said it was suggested to Gov. Sean Parnell.
"And I guess the governor was interested enough on that to say tell me more," she said. "So there's no commitment there, but that might be the way forward."
The comment period for the Gravina Access study ended several weeks ago, and the Assembly already submitted its comments to the state Department of Transportation, essentially accepting better ferry service. For its resolution, though, the Assembly opted to keep bridges as its first choice, with the added pro-ferry language.
One member, though, disagreed enough to vote against the resolution. Todd Phillips has repeatedly argued that a bridge is the best option for developing Gravina, which is the one place in the borough with large chunks of open, relatively flat land.
"This (a bridge) is going to help our economy, move it forward and bring in more things," Phillips said. "Open up some areas where families can be. Grocery stores and apartment buildings, more kids, more school, more funding. (Accepting ferries) doesn't make sense to me, but that's my opinion."
Assembly Member Glen Thompson replied that the Assembly is supporting the bridge in the resolution, but Phillips says that adding the ferry language amounts to "kow-towing."
At one point in its long history, it seemed like Ketchikan's bridge would be built. Federal money was earmarked for the $400 million project, and serious planning was underway. But in 2007, former Gov. Sarah Palin canceled it in response to a national backlash against earmarks. As the vice-presidential candidate the following year, she called it the "bridge to nowhere" in many of her campaign speeches, and years later, it still is mentioned when pundits debate funding for special projects.
The City of Ketchikan also endorsed ferries in its comments to the state, citing concerns about how a bridge would affect cruise ship traffic.
In other action, the Assembly added the Ketchikan Performing Arts Center funding request to the list of community capital projects that will be sent to the Legislature for consideration. That $1.25 million request was placed ninth on the list.
The other projects include Southeast Alaska Power Agency's proposal to raise the Swan Lake dam, a layup facility at Ward Cove, shipyard improvements, the OceansAlaska shellfish hatchery project, and a study of the Mahoney Lake dam project.
The capital projects list still must be approved by the Saxman and Ketchikan city councils.