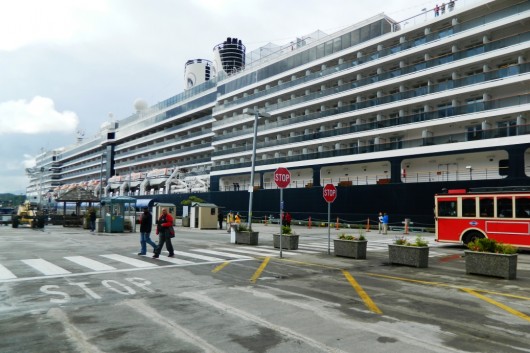 Ketchikan's downtown felt like fall in more ways than one on Thursday, with heavy rain, blown sideways by strong winds, and no tourists.
It wasn't supposed to be that quiet, but the weather forecast prompted two Princess Cruise Line ships to announce Wednesday that they were canceling their Thursday port calls, and three more decided Thursday morning that they, too, would skip Ketchikan.
The Ketchikan Visitors Bureau announced that the Statendam, Oosterdam and Zuiderdam, all Holland America ships, would not tie up Thursday.
More cancellations are possible, because Friday's weather doesn't look as though it will be much better. Ketchikan, Prince of Wales Island and other parts of southern Southeast Alaska are under a high-wind warning through Friday afternoon.
The National Weather Service predicts winds of 25 to 35 miles per hour, with gusts up to 70.