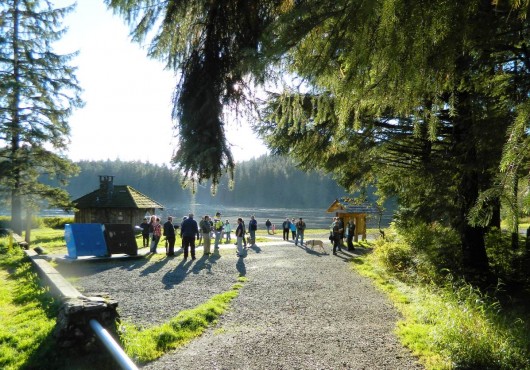 Don't mess with Ward Lake, because Ketchikan residents, especially those who have lived here a long time, are very protective of that body of water. It's one of the few lakes directly on Ketchikan's road system, it's an easy drive from the city, it has popular campground sites, day-use shelters, restrooms and an easy-to-walk nature trail that leads around the picturesque lake.
It's also managed by a federal agency, the U.S. Forest Service. So, when the government shutdown began, a barricade popped up on Ward Lake Road, with a sign stating that the recreation area was closed until further notice.
As I mentioned before: Don't mess with Ward Lake.
A photo of that barricade immediately was posted on Facebook, went viral among
community members, and a protest quickly was organized for the next afternoon. In their comments, some people joked – at least, we think they were joking – about storming the barricade and burning it. We'll never know whether they meant it, though, because when the protesters showed up, the barricade was gone.
One of the protest organizers, Jim Lewis, a local wildlife photographer, was pleased with the outcome. Mostly.
"I'm happy for that in a lot of ways, but I'm kind of bummed, too," he said, laughing. "I'm glad to see it turned out to be a nice day for this event, and I think it's really important that people get down here and enjoy – everybody enjoys Ward Lake. There was really no point in closing it down."
Lewis said the protest was not over the government shutdown in general, but was specific to the attempted closure of Ward Lake. He said there was no reason for closing access to the recreation area.
About 30 people showed up for the demonstration, and Lewis believes there would have been more. But, when people saw the barricade was down, some turned around and went home.
Holding her handmade protest sign mounted on a broom, Judy Hendricks was one of those who didn't go home.
"This area has been recreation for our family since 1940," she said. "To see someone coming along with a brown shirt on saying we can't come down here, is just sad."
Hendricks said that she, too, was protesting the lake closure specifically, rather than the government shutdown in general, but she believes members of Congress also should be affected.
"If Congress is getting paid during the shutdown, why aren't (local federal employees) getting paid?" she said. "I think that, just like Obamacare, I think they should be subject to everything that everyone else is having to go through. What's right for the goose is right for the gander."
While there wasn't any barricade left to protest, demonstrators stuck around the day-use area of the lake for a while, visiting with each other. And, despite the strong smell of decaying salmon wafting from the water, some of the protesters took a walk around the lake on what may be the last sunny day this fall.
Public access to Ward Lake is now open, but the restrooms at the site are closed. With the government shutdown, there's nobody available to clean them, and Forest Service officials were not available to comment.