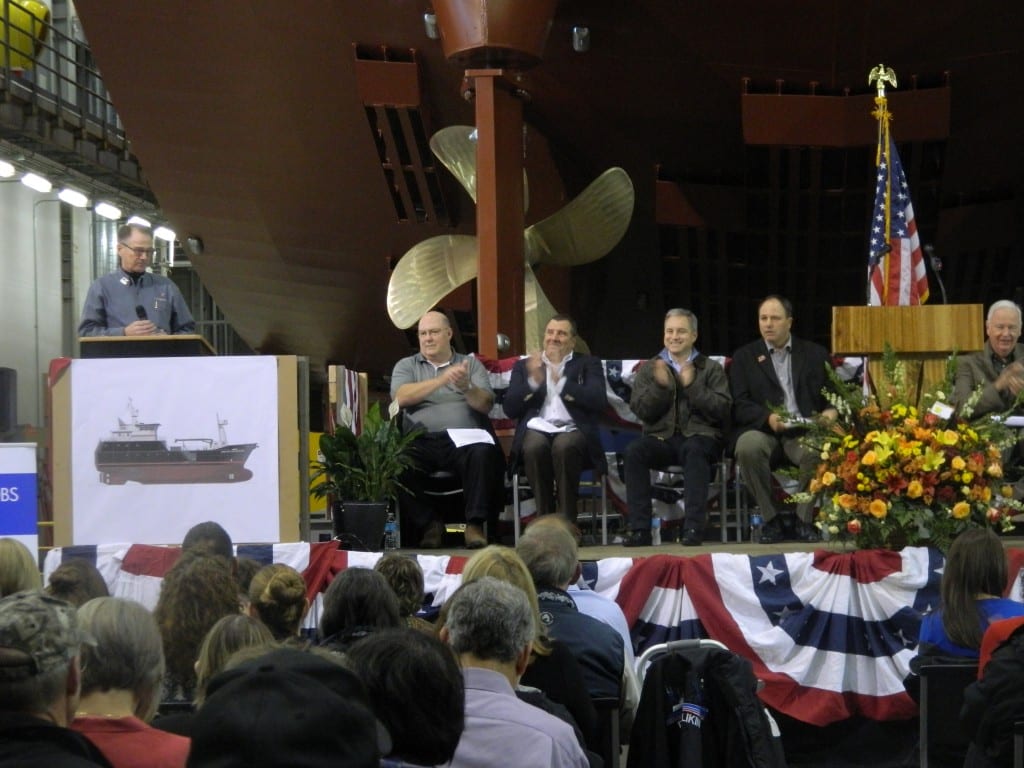 A new fishing vessel was christened on Saturday at Ketchikan's shipyard assembly hall.
A daughter and granddaughter of the late fisherman John Winther christened the brand-new Arctic Prowler. The massive longliner – the first large commercial fishing boat built in Alaska – was Winther's vision. Many speakers recognized his efforts to have the Prowler built in the state.
Those speakers included politicians and representatives from Vigor Industrial's Alaska Ship and Drydock, which built the Arctic Prowler.
While a lot of the attention was given to the ship itself, which has more than 16,000 cubic feet of freezer space and the ability to process at sea, the mood in the room was optimistic for another reason.
The Arctic Prowler was built in the shipyard's new assembly hall. The 70,000 square foot facility opened earlier this year. Politicians and industry experts have touted the new facilities in Ketchikan as a major boost to the city's economy.
Former senator and Governor Frank Murkowski attended the christening. He says that while the shipyard may never replace the pulp mill in terms of economic growth, it is a viable way to employ Ketchikan's industrial workforce.
"This is a beautiful recognition of the talent in the community, not only personnel-wise, but from the standpoint of technically being able to build a vessel like this here," Murkowski says.
And, Murkowski says, the assembly hall could provide the facilities to construct something he has spent a career pushing for.
"One of my pet projects is to get transportation over to Gravina," Murkowski says. "We ought to do it by building a tube like they have in northern Europe. And it could be built here."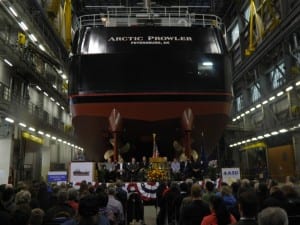 The State Department of Transportation is still working on plans to improve access to Gravina Island, but none of the options include a tunnel or tube.
Industry experts have said the assembly hall can be used to build a variety of ships for the oil and fishing industries. And there hopes that new ships for the Alaska Marine Highway System will be built in Ketchikan, as well.
Frank Foti, CEO of Vigor Industrial, spoke at the event. He says that the greatest contribution of the shipyard to Ketchikan is the jobs it provides.
"If you are a family member of the people who built this vessel, thank them," Foti said. "What they built is something really awesome. And we're going to build more."
At the opening ceremony of the assembly hall earlier this year, a representative from Alaska Ship and Drydock said that the shipyard employs 157 people.