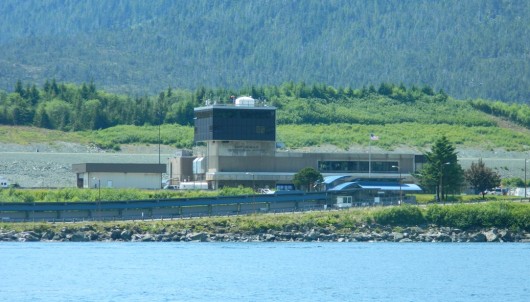 People love top-ten lists, and just recently, USA Today posted a list of the world's ten most thrilling airports. That list was put together by Airfarewatchdog.com. On the list is an ice runway in Antarctica, which could potentially crack under the weight of a plane; a landing strip in Africa where planes taxi off a cliff and fall a little ways before catching air; and Ketchikan International Airport.
While it's not surprising that an Alaska airport made the list, some Ketchikan residents, including the mayor, are not sure whether the local airport really deserves the honor.
The airport is operated by the Ketchikan Gateway Borough. And Borough Mayor Dave Kiffer said that, of course, he's always thrilled when he flies in to Ketchikan.
That said, though, it seems unlikely that Ketchikan truly is one of the top-ten most thrilling airports in the world.
"I'm not even sure we're in the top-ten of thrilling airports in Alaska," he said. "Certainly, there's no question, I've had a lot more thrilling landings in places like Juneau and Sitka over the years, even Wrangell now and again, than I have had in Ketchikan."
The short description that states why Ketchikan was chosen for the list simply states that, "The awfully short runway is close to mountains and the ocean, which drops to freezing temperatures."
The runway at Ketchikan's airport was lengthened a few years ago, and has an extension in case of emergency over-runs. In addition, while the ocean does get quite cold, it doesn't ever freeze. One truly thrilling aspect of flying in or out of Ketchikan wasn't mentioned: Wind.
"There have been times flying in here when it's been right at the limit for allowing you to land, and you get that lovely little bucking bronco approach to landing," Kiffer said. "Certainly, the fog is an issue. Certainly there are issues besides just the fact that there's a mountain nearby and the ocean is nearby."
Before Ketchikan had an airport, Kiffer said, it was truly thrilling to fly here. People coming to Ketchikan flew larger planes to Annette Island, and then transferred to the old-fashioned float-planes, like the Grumman Goose, which then would bring them to Ketchikan.
"And those float planes landed on their bellies, and the water would splash up by the windows, and invariably, someone who never landed in Ketchikan before would scream," he said.
Kiffer does have one theory as to why Ketchikan's airport does count as one of the top most thrilling airports in the world:
"We have the best popcorn in the State of Alaska at our airport," he said. "I know that because you'll see flight crews get off the plane, go over, get popcorn and then get back on the plane again."
Kiffer wrote a column on this topic for the online site sitnews. http://www.sitnews.us/DaveKiffer/102313_kiffer.html