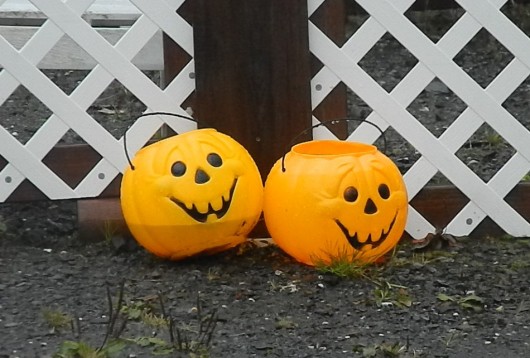 Halloween is Thursday, and Alaska's First City is prepared to block most vehicle traffic on Jackson Street in anticipation of the traditional flood of trick-or-treaters that show up there each year.
To help residents with the expense of providing candy to all those costumed youngsters, members of the Ketchikan Police Department distributed bags of candy to Jackson Street residents earlier this week. The police will close the street to cars Thursday evening, although residents will be allowed to drive to and from their homes.
City Mayor Lew Williams III says the tradition started many years ago in response to concerns raised by Jackson Street residents. He says many parents take their kids to trick-or-treat on that street, and in the years before it was blocked, would drive slowly alongside as their children went door to door, creating a congestion problem. The annual barricade, which goes up at 5:30 p.m., is meant to improve safety.
Williams, who lives a block away from the main trick-or-treat street, is a big fan of Halloween. He laments the popularity of Jackson Street, and says he hopes more trick-or-treaters will make a brief detour to Monroe Street.
Williams keeps count of all the trick-or-treaters who come to his house on Halloween, and always hopes to improve on the previous year's number. Last year, he says, he had 528. Some residents on Jackson Street have reported upwards of 1,000.