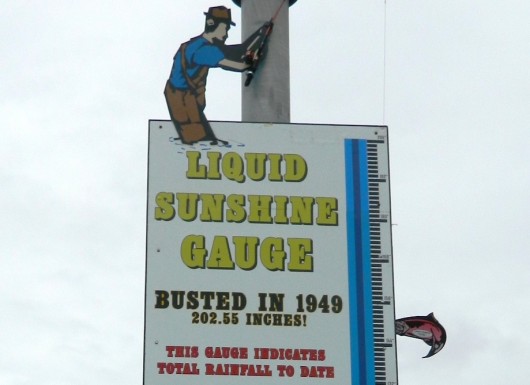 So far in 2014, Ketchikan has gotten about two inches of rain. It's been less than a week, though, and as we know, there's plenty more to come.
A meteorologist with the National Weather Service in Juneau predicts that the rest of this winter will be colder and wetter than normal for Southeast Alaska. He also gave a brief weather recap for 2013, including Ketchikan's official rainfall total for the year.
As the saying goes: It rains in a rainforest. How much? Well, Ketchikan averages a little more than 150 inches every year, with some years approaching 200.
This past year was an interesting one, from a meteorologist's perspective.
"For Ketchikan, the entire year was one of extremes in terms of precipitation," said Rick Fritsch with the National Weather Service office in Juneau.
He said that only two months – August and November –had normal levels of precipitation. Several summer months were particularly dry; and then there was December, "Where Ketchikan received 13.45 inches above normal. To put that in perspective, that's almost 100 percent more."
Fritsch explained where all that rain came from.
"Believe it or not, weather that begins as a convective complex in the Indian Ocean makes it across the Indian Ocean to the Southwest Pacific Islands area and then eventually has an impact on our weather in Southeast Alaska," he said.
In the case of December, there was a solid connection between Southeast to the tropical Pacific Ocean. Fritsch said that moisture just kept coming our way, carried by a series of low pressure systems that form in the Northwest or West Central Pacific and then head to the Gulf of Alaska, "where all good lows go to die."
While it's considered poor form to look a gift horse in the mouth, I just had to ask why the summer of 2013 was so gloriously dry and warm.
"The short answer is we got lucky," he said. "The longer answer had to do with the fact that the jet stream was keeping things far enough away from us, either to the north or to the south."
That jet stream defines where those soggy lows end up. And speaking of soggy, Fritsch had a prediction. While the first few days of January have been above-average in terms of temperature, he said, "I still am expecting the winter as a total, December January and February, to come out below normal in terms of temperature, and right now it looks like we have a pretty good chance of above normal in terms of precipitation."
He added that it's a little too early in the year to predict spring and summer.
Oh, and despite that dry summer, Ketchikan's total rainfall for 2013 was pretty average. Fritsch reported that Alaska's First City hit 151 inches even.