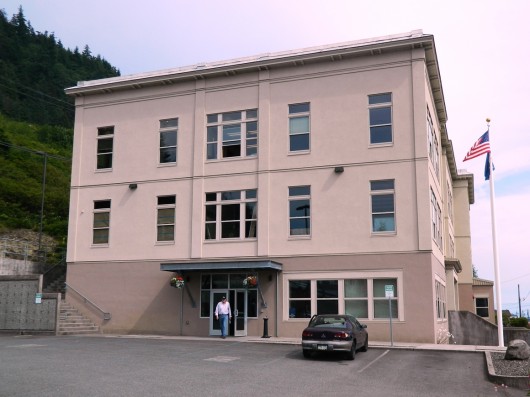 On Monday, the Ketchikan Gateway Borough Assembly will consider appropriating another $150,000 toward a lawsuit, filed this week against the State of Alaska.
An ordinance authorizing the appropriation will be considered in first reading Monday, which means it will have to come back to the Assembly a second time. The $150,000 would come from the borough's economic development fund, and is expected to pay for lawsuit-related costs through the end of June.
The lawsuit challenges the state over what some local officials say is an unfair mandate requiring boroughs and first-class cities to fund a minimum level for local schools, but not anyone else. The borough argues that because not everyone in Alaska is required to contribute to local education, the mandate isn't fair.
The borough has tried encouraging the Legislature to find a solution, but until recently had no luck. On Jan. 10th, however, Fairbanks Republican Rep. Tammie Wilson pre-filed a bill in the state House that would repeal the required local contribution. And in another show of support from the Interior, the Fairbanks newspaper this week published an editorial encouraging that community's lawmakers to add their support to the Ketchikan borough's efforts.
Also Monday, the Assembly will consider a resolution authorizing acceptance of up to $1 million in Federal Transit Administration grant funds; an agreement with the state Department of Natural Resources to allow a log transfer facility at the old Seley Mill site on Gravina Island through 2017; and a lease agreement with Ketchikan Dog Park allowing development of a dog park off Revilla Road.
Monday's meeting starts at 5:30 p.m. in Borough Assembly chambers at the White Cliff building. Public comment will be heard at the start of the meeting.