"Do not come to Ketchikan."
That's the first line of a new advertisement the KVB is running in travel and airline magazines.
At a Ketchikan Visitors Bureau Luncheon on January 17, KVB President and CEO Patti Mackey said the ad, which was designed by the Seattle-based Green Rubino agency, is "tongue in check."
"(This advertisement) was the one that we felt was really the most different ad from any destination out there," Mackey said.
The ad will be running in travel and airline magazines. The KVB hopes those ads will speak to independent travelers — people who might stay a night or two in Ketchikan.
Mackey went over the visitor numbers to Ketchikan from 2013. She says almost 991,000 visitors came through town.
"It is still a record breaking year," she said. "We surpassed our old record, which was in 2008. So that's really great news."
Mackey discussed some of the challenges to Ketchikan's tourism industry. In short, traveling to Alaska isn't the most convenient option for most people. She said there's still a tendency for people to stay closer to home to save money.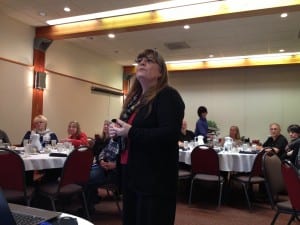 "When we think about marketing the state, we think about a visitor who is going to foreign country," Mackey said. "Because it's really a similar type of a long-haul. There's more planning involved, it takes more time. You have to kind of look at Alaska like a trip to Europe or Australia because it takes that same amount of effort."
Looking ahead to this spring and summer, Mackey says the first cruise ship is coming to dock April 28th. And there will be the same number of ships this year as last year.
However, Ketchikan is losing about 30,000 passengers because of Princess cruise line's decision to switch one of its larger ships out and replace it with a smaller one.
Mackey wrapped up the lunch with some of KVB's successful projects last year. A new visitor center opened up, and a video information screen was installed at the airport. The Ketchikan Story Project, which documents the history and culture of Ketchikan in a series of six videos, won several awards, including two regional Emmys.
Mackey says this year, they hope to make the DVDs available for local shops and for the cruise lines.