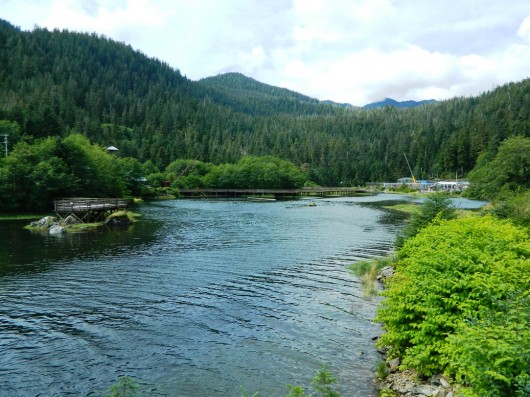 It wasn't an action item on the agenda, but the issue of seasonal congestion in the Herring Cove area was a hot topic of conversation during Monday's Borough Assembly meeting.
In his report to the Assembly, Borough Manager Dan Bockhorst noted that a request for the state Department of Transportation to consider a seasonal speed limit reduction for the Herring Cove Bridge was not received positively by DOT officials.
The state responded with a proposal for a speed limit reduction, but only while cruise ships are in port, adding that the borough should hire a compliance officer and make tourists wear reflective safety vests while visiting Herring Cove.
Borough Assembly members didn't take well to those suggestions.
"This all strikes me as asinine," said Assembly Member Glen Thompson.
He went on to say that the borough is on record expressing concern about safety hazards on Herring Cove bridge, and he believes it's now up to the state to find a solution.
"In my mind, they're taking on the responsibility and they're holding the bag if someone gets hurt or killed out there, and I don't think the governor wants that on his record during an election year," he said. "If they can't come around to our way of thinking, I think we need to contact the governor and see if he can put some pressure on from up above, because this is absolutely ridiculous. And if you think I'm mad now, wait till we get outside and I'm away from the microphone. "
Tens of thousands of tourists visit Herring Cove during the busy summer season. They go to see the salmon run in the creek under the narrow Herring Cove Bridge, and to watch bears that come to catch those returning salmon. The problem is that the area is not developed for tourists, so many of the tour buses park on the side of the road, and their passengers walk along, and often across, the bridge, which is part of the state highway.
The speed limit in that area is 45 miles per hour.
Bockhorst said that when he brought up reducing the speed limit on a seasonal basis, DOT officials were concerned that doing so would actually make the problem worse, because it would give pedestrians a false sense of security. He said DOT also doesn't want to endorse pedestrian use of the bridge.
"It is a transportation corridor for automobiles, it is not a tourism facility, so yes they are being hard-line on this issue, but their attitude is, 'We're not going to do something that's going to encourage the use of a highway and a narrow bridge for tourism purposes,'" he said.
The borough has tentative plans to build a pedestrian bridge over the creek that would help the problem, but that's a long-term solution. In the meantime, Bockhorst said the Planning Department is working with the borough attorney to come up with a permitting process that would require bus companies to comply with safety guidelines. The cost of a seasonal safety officer to enforce those guidelines would be about $10,000, and the Assembly would have to approve that new regulation.
However, time is short for even that to be implemented before the tourism season begins this year.  After much discussion about options for the area, the Assembly gave four-hands direction for Bockhorst to ask for a year-round speed-limit reduction by the bridge. The justification is that the area is potentially dangerous even during winter.
In other action, the Assembly voted 6 to 1 to introduce an ordinance that would require all newly built structures within the South Tongass Service Area to hook up to the public water system, if they are within 300 feet of a water main. Alan Bailey voted no.
Another measure that passed was a second and final reading on an ordinance appropriating an additional $150,000 for the borough's education funding lawsuit against the State of Alaska through the end of June. It passed 4 to 3, with Bailey and Assembly Members Jim Van Horn and Bill Rotecki voting no.
Also Monday, the Assembly gave four-hands direction for the manager to prepare a resolution in support of House Bill 75. That bill would remove the requirement for nonprofit agencies in the state to have an annual audit in order to qualify for listing in the Pick Click Give program.