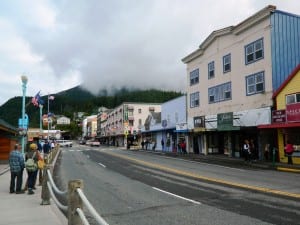 The Ketchikan City Council meets in regular session Thursday, and among the items on the agenda is a proposed year-round, half-percent sales tax increase.
The Council has been talking about increasing sales tax within city limits for a few months, and for a while it appeared that the city would have a seasonal sales tax increase, hiking the rate by a full percentage point during the busy summer months, then dropping it to the current level after the tourists have left.
But, in part due to concerns from business owners and the bookkeeping issues that might arise, the majority of the Council decided to move forward with the year-round increase. If approved, the new city sales tax would be 4 percent, and would take effect April 1st.
Thursday's vote is the first of two needed before the new sales tax rate is official. A second reading likely will take place during the Council's Feb. 20th regular meeting.
Also Thursday, the Council has an executive session planned to talk about two Dutch artists who have made a claim for compensation over a rain gauge bid that the Council initially accepted and then decided to not fund. That closed-door discussion will take place at the end of the meeting.
The Council meeting starts at 7 p.m. in City Council chambers. Public comment will be heard at the start of the meeting.