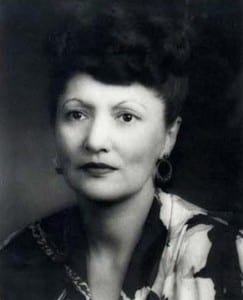 Ketchikan will celebrate Elizabeth Peratrovich Day with a car parade this weekend, and an event on Feb. 16th at the Southeast Alaska Discovery Center.
During a recent Ketchikan Gateway Borough Assembly meeting, Mayor Dave Kiffer proclaimed Feb. 16th as Elizabeth Peratrovich Day in Ketchikan.
James Llanos Sr. of the Alaska Native Brotherhood accepted the proclamation. He says that ANB-ANS Camps 14 and 15 will co-host the celebration. They also are planning the car parade, which starts at 12:30 p.m. on Sunday at Community Connections. Participants will honk their way to Wal-Mart, where organizers will give out free hot dogs.
Llanos says the Discovery Center event on the 16th starts at 5 p.m., and the celebration is open to the public.
Elizabeth Peratrovich and her husband, Roy, were leaders in Alaska's Native civil rights movement. Elizabeth Peratrovich's testimony in front of the Territorial Legislature was a key moment leading toward the passage of the Alaska Anti-Discrimination Act. That measure was signed into law on Feb. 16th, 1945.