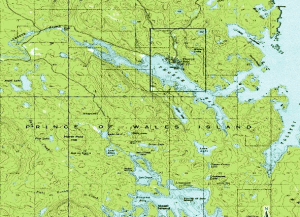 The State Department of Natural Resources is accepting comments on a proposal to subdivide and sell about 75 acres of state-owned land near Thorne Bay on Prince of Wales Island.
The Old Skid Road Subdivision is within the Thorne Bay city limits. The state plans to subdivide most of the former timber sale area into parcels of 2.5 to 10 acres.
According to the public notice about the proposal, there is an old logging road within the proposed subdivision. After the old road is cleared, it will provide access to most of the lots.
The road and additional right-of-ways will be part of the project design to designate access to all the lots, as well as to state land beyond the proposed area.
The preliminary decision on the proposal notes that "because of the scarcity of land to expand the existing city center, the proposed land sale project will allow for (an) increase in total population while not increasing the density."
Two public meetings are planned to provide more information on the proposal. The first starts at 6 p.m. Feb. 24th in the Ketchikan City Council chambers; and the second is at 6 p.m. Feb. 25th at the Bay Chalet in Thorne Bay. The deadline for public comment is 5 p.m. March 18th.
For more details on the proposed land sale, go to http://dnr.alaska.gov/mlw/landsale/public_notice/