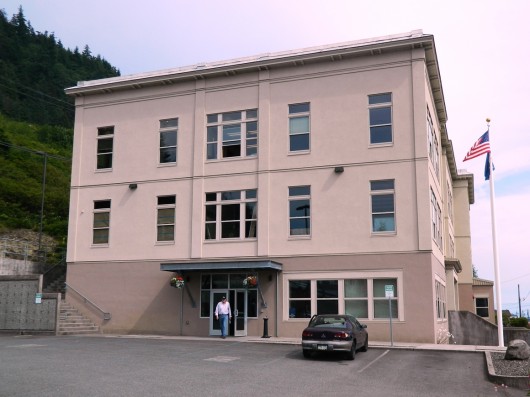 The Ketchikan Gateway Borough Assembly decided Monday to change an ordinance governing South Tongass water service, removing a requirement that existing homes hook up to the public water system if they are sold.
The ordinance before the Assembly called for all new-built homes within the South Tongass Service Area to connect to the public water system, if they are within 300 feet of a water main. That part of the ordinance remains, but the Assembly unanimously voted to remove another part of the measure, after hearing concerns from some residents.
"In my opinion, it's unfair to force people into this," said Jackie Yates. "I think that whoever already owns property should be grandfathered in and should not be forced upon sale to change the situation."
Yates built her South End home with her husband just a few years ago, and invested in a rain catchment system for their water needs. She argued against the section of the ordinance that would require existing homes in that service area to connect to the public water system if sold to anyone other than an immediate family member.
Linda Randall, who chairs the South Tongass Fire and Water Service Area board, had another point of view. She said there's an appeal process spelled out in the ordinance, in case hooking up to the water system would be prohibitively expensive for anyone. And Randall added that the cost of hooking up could be factored in to the sale price of a house – just like a new roof or new carpeting often is.
"We don't want to be a burden on anybody," she said. "We just need people to be on the line to make it a viable water system, as cheap as we can run it. The more people, the better the water, the lower the cost. "
While understanding Randall's concerns, Assembly members were reluctant to force existing homes to connect.
"I appreciate the amount of work you've put into this, but I have a real difficulty telling an individual who has a working system, that the government is now in their best interest, could force them to be placed upon a water system that they will continue to pay for," said Assembly Member Alan Bailey, who added that he's not confident in a government appeals process.
Assembly Member Bill Rotecki later proposed an amendment to remove existing homes from the requirement. He said that eventually, lenders will most likely require homes to hook up to public water in order to finance a mortgage, "so sooner or later, these people will be picked up. Or sooner or later, there will be a benefit enough that even the existing homes will change over, or most of them except the ones where it's extremely expensive (to hook up). There will be a loss, but I'm hopeful that it will not be very many. I see this as a compromise."
The amendment and then the main motion passed unanimously on a 6-0 vote. Assembly Member Glen Thompson was absent, as were Mayor Dave Kiffer and Borough Manager Dan Bockhorst.
The Assembly also voted Monday to introduce an ordinance creating a Herring Cove Tourism Management Program. The program would be paid for through cruise passenger head-tax funds, and would issue permits for tour businesses that take visitors to Herring Cove for fish and bear viewing.
That ordinance likely will come back to the Assembly at its next meeting on March 17th for a public hearing and second vote.