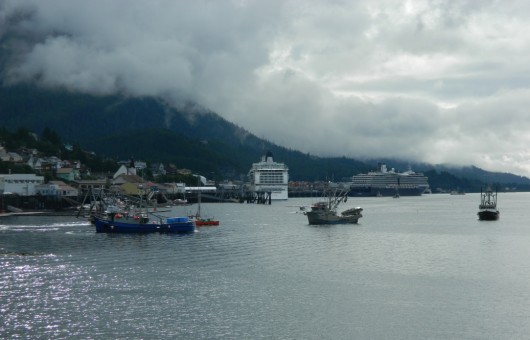 The Ketchikan City Council decided Thursday to not add crossing guards to Water Street next to Berth 4 of the downtown cruise ship dock.
Of the 850,000 or so cruise passengers expected to visit Ketchikan this year, about a quarter will arrive on ships docked at Berth 4. That's the newest of the city's cruise ship berths designed to handle the huge floating cities that dominate the local waterfront each summer.
For many years, the city has employed downtown crossing guards to help visitors get across the street safely, and to stop them from crossing in dangerous areas. But there aren't any crossing guards for Water Street near Berth 4.
Some business owners with shops on Water Street have asked for crossing guards over the past couple of years, stating that safety has become an issue.
City Mayor Lew Williams III wanted the City Council to at least give it a try, preferably at the crossing near the old Marine Bar, a little up the street from where Hopkins Alley branches off.
"Do it for the first month of May and see if it's helping with anything or not," he suggested. "I'd hate to say no for a third time. I'd like us to at least do a test – does it help, does it hinder? (Don't) just cast it away."
Council Member Bob Sivertsen suggested as an alternative that the city try using cameras to count how many people cross the street in that location. He also suggested approaching the state Department of Transportation about installing a flashing crosswalk for Water Street, which is part of the state highway.
Council Member Dick Coose, who works on the dock during the summer seasons, said most cruise passengers get onto buses right away, anyway. Of those that choose to walk, he said most head straight downtown, so only a small percentage crosses Water Street.
"I guess I haven't noticed that it's that much of an issue. The drivers are doggone good people, and they will stop," Coose said. "If we want to put a crossing guard in, the one thing I don't want to do, I don't want to spend any more money. There's enough people now they can do the job with the number of people."
Port and Harbors Director Steve Corporon estimated that it would cost about $10,000 per crossing guard if the Council chose to add Water Street to the program. He also said that port personnel monitor all the downtown crosswalks during summer, and the pedestrian volume on Water Street has not risen to the point of needing a crossing guard.
Mayor Williams still wanted to give it a try, though, and asked for four-hands support of a trial run.
"Is there four people interested in testing a crossing guard for May down there? One, two, three?" But a fourth hand did now appear. "It dies."
Sivertsen, while not supporting the motion, said he wants city port personnel to continue monitoring pedestrian traffic on Water Street.
In other cruise-related action, the Council approved an adjusted cruise ship berth assignment schedule. The reassignment is a response to a recent announcement that the Carnival Miracle needs maintenance work and has cancelled 15 scheduled port calls starting in late May.
The city assigns berths in hopes of evenly distributing cruise passengers along the downtown dock's cruise ship berths.
The next cruise ship is the Carnival Miracle, which arrives Sunday, bringing more than 2,000 passengers to Ketchikan. The first multi-ship day is Thursday, when the Golden Princess and the Westerdam will bring nearly 4,500 passengers into town.