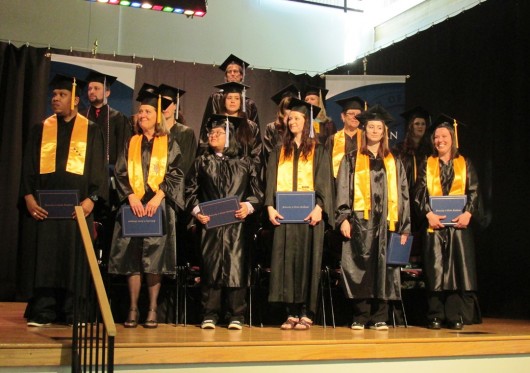 University of Alaska Southeast Ketchikan Campus celebrated 25 graduating students on Saturday, and bestowed an honorary doctorate on a well-known local artist.
Graduation is a joyful celebration, a fact underscored by the beaming smiles on the graduates' faces as they accepted their diplomas from a lineup of University of Alaska officials, including Campus Director Priscilla Schulte, who emceed the event.
Fifteen graduates attended the ceremony, earning certificates, and associates, bachelors and master's degrees.
One of those degrees went to Jeremiah Tucker, a working parent and a U.S. Army veteran, who was the student speaker. He talked about the hard work that's required in the pursuit of knowledge.
"Ten years ago, I would have never even considered putting the words together: 'Jeremiah Tucker' and 'College Student,'" he said. "Through my elementary and junior high years, I struggled with dyslexia. I thought I would never be able to attain a formal education."
But having children made Tucker change his mind, especially after one of his kids was diagnosed with dyslexia.
"I looked at my children and I thought, 'I want a better life for them than they could obtain without an education.' I knew I wasn't going to be able to tell them the importance of an education unless I put myself out there," he said.
Tucker said that his bachelor's degree in liberal arts is not the end of his educational journey. He now plans to pursue a master's.
The commencement address was given by Ketchikan artist Evon Zerbetz. She also received an honorary doctorate in fine arts for her many and varied contributions to the
community. Zerbetz spoke about the importance of curiosity.
"I don't claim to be an expert in any field, but I'm wildly interested in the natural and often unnatural world around me," she said. "And my circuitous path to find my career has been driven by my observations of things that I don't understand, but I want to. And I translate this curiosity into my art."
Zerbetz said curiosity sets people up to be a lifelong learners, it can lead us to what will make us happy, it can help build stronger relationships and it leads to innovation. She told the story of "Flasher Bill," a man who lived in nearby Myers Chuck.
Zerbetz said he noticed that fish bit more often when other fish were in the water nearby, scales flashing as they reflect the light.
"Bill set out to replicate this. He saved his food cans, stripped the labels, flattened out all those cans, and he kept at it until he had a bucket full of the shiny strips," she said. "One day, when the fish were following his gear but not biting, he tested his theory."
Flasher Bill threw the strips overboard, and as they flashed through the water, the fish bit. Zerbetz said Bill later refined his technique, attaching the strips to the hook, so they could be used repeatedly. And through exploring his curiosity, Bill invented the flasher, now a staple in any fisherman's gear box.
Zerbetz encouraged the graduates to use their natural curiosity to continue learning and discovering new passions in life.