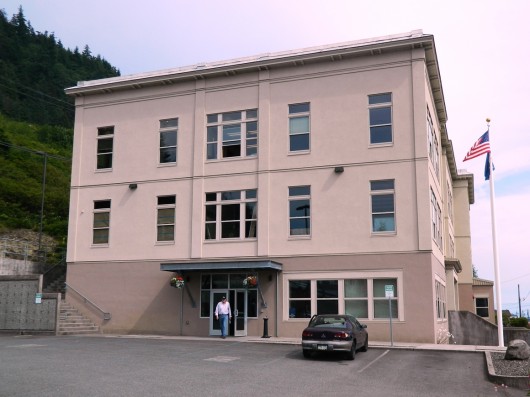 A revised ordinance to rezone land on Third Avenue near the Ketchikan Public Library is up for a public hearing in front of the Ketchikan Gateway Borough Assembly on Monday.
The rezone would affect more than 13 acres, now all zoned for low-density residential. Half of the property would become general commercial, and the other half would switch to light industrial.
The rezone had been controversial, because it originally called for part of the site to become heavy industrial. Neighboring property owners were concerned about what that could mean far into the future. Another concern was related to proposed rock excavation and crushing on the site. Those activities still would be allowed under the revised rezone through a conditional use permit.
In his manager's report, Dan Bockhorst gives an update of tourism activity at Herring Cove, a popular South End destination for wildlife viewing. He writes that the borough's new tourism management program has kicked off, and a compliance agent has been hired to make sure tour operators comply with regulations.
Those regulations require a permit, and that bus drivers follow a few rules, such as not parking in a way that impedes traffic, not stopping on the narrow bridge, and not allowing passengers to congregate on the bridge. In addition, the speed limit on the bridge was lowered to 25 mph to improve safety.
Monday's Assembly meeting starts at 5:30 p.m. in Borough Assembly chambers at the White Cliff building. Public comment will be heard at the start of the meeting.