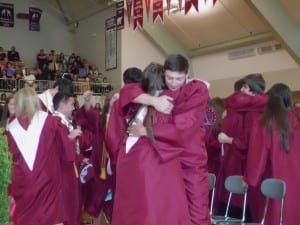 More than 100 students were honored Sunday during Ketchikan High School's 2014 commencement ceremony. As they received their diplomas, the seniors were cheered on by friends, family members and educators.
As the Kayhi Wind Ensemble played "Pomp and Circumstance", graduating seniors walked arm in arm, double-file into the Clarke Cochrane gymnasium to receive their long-awaited diplomas.
In her speech, valedictorian Hayley Jo Nichols thanked all who supported the students and helped make graduation possible. She told fellow seniors that graduation day marks the end of their lives together. She says though this is an ending, graduation marks the beginning of the rest of their lives.
"That thought is exciting, but also terrifying. We are leaving behind everything we have known to enter a world that is far bigger and scarier than high school. After today, many of us will be going off to school, some to work and some to serve in our military. Some of us will become doctors and nurses and pilots and teachers. Someday we will become husbands and wives and fathers and mothers. But no matter where we go from here, we have a chance to be great. We have a chance to follow our dreams and create a life that makes us happy."
Graduating senior Alexei Weston then sang "My Wish."
Curriculum Director Doctor Linda Hardin provided the commencement address. With humor and candor, she spoke of an idyllic childhood, and wished that someone had told her that would be the most stress-free part of her life. She says her situation changed after the death of her grandmother. She became a rebellious teenager overnight, and when the family moved she says she left a high school with many possibilities to one that was small and run down.
"…where the counselor / mad teacher / assistant principal asked me how many study halls I wanted, and did I want to take band or be a cheerleader; neither of which appealed to me at the time so I found other things to do. No one told me that you could get pregnant at 17, even when you thought you were just fooling around. In that day-and-age you got married, whether you cared about each other or not. No one told me that you could get pregnant again without even trying (laughter) …Maybe not without trying (laughter)."
Sharing her own story of being a young, inexperienced mother of two, she spoke of things that no one ever told her – about cooking, changing diapers, relationships and more. Hardin says if relationships matter to you, you need to work to keep them.
"When considering spouse, and friends, and colleagues, and people you trust, everything you value today in your future will require work. Maybe not the physical kind, but certainly mental and emotional effort."
Hardin says while holding down two jobs and caring for her children she went to college. After becoming a teacher, she continued her studies to learn more about special education.
"I went back to school, and back to school, and back to school, until I found out I was pretty good at it. I proudly stand here today with 43 years of experience as an educator, and a 4.0 PhD. If I can do that, so can you."
Hardin read a humorous list of things her mother taught her. She concluded by congratulating the students.
Before the presentation of diplomas, School Superintendent Robert Boyle asked administrators if students had met all of the qualifications necessary for graduation. Kayhi Principal Sam Nelson gave a thumbs up.
The name of each graduate was read to the applause of those in attendance.
Tassels were then turned, and the Kayhi class of 2014 officially started a new chapter in their lives.
(Linda Hardin's complete commencement address follows)