Mathew Martinez was arraigned today (Wednesday) in Ketchikan District Court. The 30-year-old Ketchikan man is charged with third-degree domestic assault, second-degree terroristic threats, fourth-degree weapons misconduct and violating conditions of release after a police stand-off early Tuesday morning.
He appeared visibly agitated in court, often laying his head on the railing or looking out at his wife in the gallery. Martinez sometimes talked to those next to him, swiveled in his chair and often muttered.
Martinez allegedly called 911 at approximately 4 am Tuesday threatening to shoot anyone who walked by his Schoenbar Road home. He also threatened to shoot police if they responded. Martinez was arguing with another man outside his residence. When plain-clothes officers tried to approach Martinez, he went back into his house. Martinez entered and exited the residence several times carrying firearms. A section of Schoenbar Road was closed near the charter schools and recreation center while police tried to negotiate his surrender. Those buildings were also evacuated.
Martinez eventually came out of the residence with his wife, unarmed. Police took him into custody at approximately 5:45 Tuesday morning. No one was injured during the incident.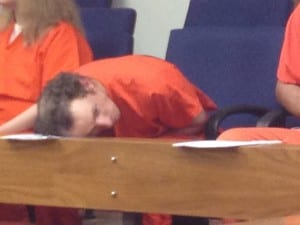 Martinez mumbled as District Court Judge Kevin Miller addressed him. Miller asked him if he understood the charges against him and Martinez replied "yes." He was then asked if he wanted a lawyer. Martinez requested a local public defender. Miller told Martinez a local attorney would be assigned, but if there was a conflict of interest, the Office of Public Advocacy would assign a lawyer. Public defender Sam McQuerry, who was sitting behind Martinez, handed him his business card.
Assistant District Attorney Joe Kovac says, because of the seriousness of the charges and danger to public safety, bail should be set high. He also requested a third party custodian. Asked by Miller if drugs or alcohol were involved in the case, Kovac responded that information was not yet available.
Miller asked McQuerry if he had any bail recommendations. He said he did not, but would like to get to trial.
Miller set bail at $100,000 and required a 24-hour sight-and-sound third party custodian.
Appearing shocked, Martinez in a low voice said "Are you serious?" He continued to speak while the prosecutor and judge discussed matters.
Judge Miller set a preliminary hearing for June 20th at 1:00 pm. Martinez is being held at the Ketchikan Correctional Center.