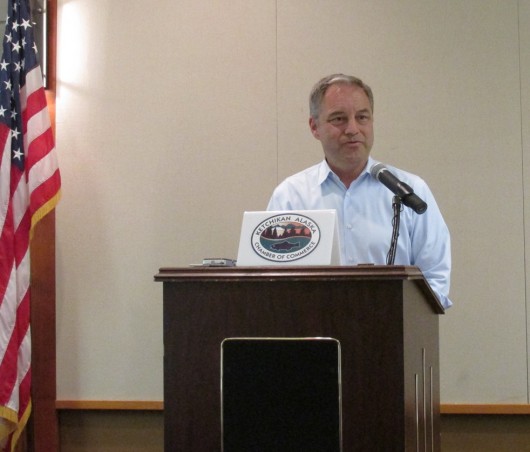 Governor Sean Parnell was in Ketchikan early this week, and while his main purpose was to sign SB99 – a bill authorizing loans to help area mine projects – the governor touched on other local projects, as well.
Parnell told a Ketchikan Chamber of Commerce audience that he likes to focus on creating opportunity, and one of the ways to do that is to provide access to resources. Roads, for example. The Shelter Cove Road, to be specific.
"I've been told by DOT that regardless of the Forest Service timber sale in 2015, the road as a state-funded project, will provide access for recreation, for subsistence, fishing, boating, more," he said.
The Shelter Cove Road project would result in about 10 miles of new, single-lane, unpaved road and bridges; plus an upgrade to existing logging roads and the White River Road. The new road would connect the main road system in Ketchikan to Shelter Cove in Carroll Inlet.
Parnell gave a progress update on the road.
"We purchased the White River Road from Cape Fox Village Corp.," he said. "We had a contractor out there resurfacing that road. That first segment, that's going to be done this summer. That's about five miles. The next piece is another five-mile section on Mental Health Trust land, and we just signed the agreement last week to reconstruct it as a public highway."
The state has obtained easements, and is working on Army Corp of Engineers permits for the remainder. Parnell said construction could start as early as this fall.
In other transportation news, this year's North Tongass Highway reconstruction is done now, and the airport runways have been repaved. The state also is taking on replacement of the city's Water Street trestle.
"That was last reconstructed in the 1970s. It's had a long, useful life, but it's time to rebuild it," Parnell said. "Design is moving forward. If the schedule holds, that two-year project will be on the street in 2015."
Parnell also talked about the Ketchikan Shipyard, which received $1 million from the state this year. He added that the Alaska Marine Highway System headquarters will remain in Ketchikan.
"We've made that permanent. We did it through the purchase of the veneer plant and centralizing offices there," he said. "It anchors the Marine Highway headquarters in Ketchikan. That's where it outta be, that's where it's going to stay."
In answer to an audience member's question about the status of AMHS's Alaska Class Ferry project, Parnell said that project is still under negotiation between the state and the shipyard. As long as Ketchikan's shipyard is able stay within the $120 million budget, he says the two ships will be built here.