A traditional English folk dance that has been around since at least the 1400s came to Ketchikan on Monday. The Anchorage-based Rant and Raven Morris Dance group kicked off its 20th anniversary celebration and ferry cruise with a performance under Ketchikan's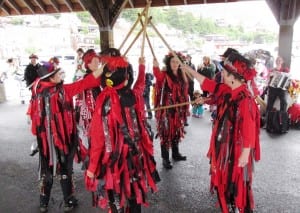 downtown Berth IV shelter.
Cruise ship visitors and locals watched, clapped and laughed while energetic dancers hopped, stepped and rapidly struck short sticks together to the accompaniment of accordions and flutes.
The Alaska dance group has been joined on the celebration tour by dance groups from Seattle, British Columbia, and England.
Click "play" below to hear an audio postcard from the performance.
The Morris dancers head to Juneau next, and plan to perform Tuesday at the marine park in front of the library there. After that, they take the ferry to Yakutat and Whittier before ending the tour in Anchorage.
The celebration was paid for through a grant from the Alaska State Council on the Arts.