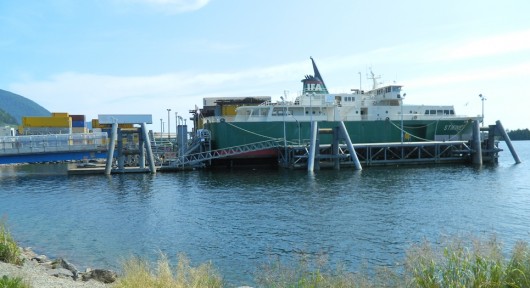 The Inter-Island Ferry Authority canceled its Sunday sailings between Prince of Wales Island and Ketchikan because the Hollis dock was broken. That left about 150 people stuck on one island, or the other.
This is the IFA's busy season, so the timing was not good. The problem was with the motor that raises and lowers the bridge, allowing vehicles to get on and off the ferry.
"The ramp was stuck in the down position, so when we figured we weren't going to be able to fix it in the short term, we had to have everybody get off the vessel, and fly somebody over from Ketchikan to help us out," said IFA General Manager Dennis Watson.
He said the ferry Stikine's run from Prince of Wales Island to Ketchikan was somewhat light, but the return trip was packed.
About 150 people and 33 vehicles had booked passage for Sunday's IFA voyages. That doesn't include the passengers who don't book in advance, which often adds another 20 percent.
A lot of those people decided to wait for the next day's ferry trip.
"Yeah, today is going to be a real massive load coming back from Ketchikan," Watson said.
And Monday's sailings were sold out, with a waiting list. People can fly between the two islands, but that's a more expensive option.
Watson said the Hollis dock, which is owned by the Alaska Department of Transportation, is due for a complete rebuild soon.
"The contract has been advertised," Watson said. "All proposals are due in soon and they're going to open on the seventh of July. State DOT will be in charge of administering that contract."
If all goes well, construction will start next spring.
"It would be most convenient for us if it could be early in the spring, before our busy season started," Watson said. "That would be easier on everybody. We'll see how that works out, though."
The Hollis dock and related equipment are about 30 years old. It was installed for the state ferry Aurora, which used to serve POW. The Aurora now sails in Prince Williams Sound.
The Inter-Island Ferry Authority has daily trips between Ketchikan and Prince of Wales. http://www.interislandferry.com/