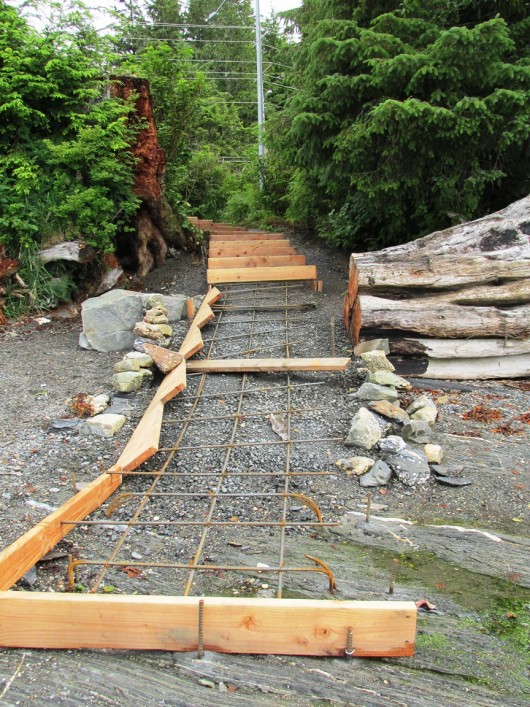 Apparent vandalism has hit another local project, this time a new set of stairs under construction at Rotary Beach, meant to help improve access to the popular site. First City Rotary is in charge of the project, and KRBD talked with the group's outgoing president about what happened.
Every year, Rotary members look for a project: one that's hands-on, and will clearly benefit the community. First City Rotary President Rosie Roppel, whose term of office just ended, explained how they chose improving the beach access.
"One of our members who has a bunch of little children went down there, trying to get down to that beach and was hanging through the bushes and over the roots and everything, the little girl fell down and really hurt herself," she recalled.
That member suggested putting in stairs so that children, seniors and others who have a difficult time crawling over logs and bushwhacking through the trees, can get down to Rotary Beach, which many locals also refer to as Bugge's Beach.
"So everybody jumped on it and said yes," Roppel said.
The group received a matching grant for the work, and also is using money raised locally
to help pay for it. Sweat equity, though, is a major factor.
"First of all we had to clear the path, then we had to bring down D-1, and we had to haul it down in barrels because it's in a peculiar spot, where you can't really drive a truck down," Roppel said.
They spread the gravel, tamped it down, placed rebar in between wooden forms, all in preparation for pouring cement. Roppel estimated that about $25,000 worth of labor and materials have been put into the project.
It was all set to go, but then the weather turned on them. Roppel said that the group, led by Dick Miller, had to abandon the project until the weather got better.
"So I'm sure it was probably disheartening to him, and all the rest of us that worked on it and our club that raised the money, and the district that gave us the money, and all the people in town that are looking forward to the stairs, to have somebody or something come and destroy the whole bottom half of it," she said.
Roppel said it actually is the bottom third. The wood forms were pulled up and removed – she suspects for firewood. Some of the rebar was bent and probably needs to be fixed if not replaced.
Roppel noted that vandalism has damaged or destroyed former Rotary improvement projects, as well. For example, Rotary members last year replaced some of the small fishing piers at Carlanna Lake that had been damaged when people burned campfires directly on the wood decking.
"So, we totally repair them, packing the wood by hand, high school kids and everyone, packing it up, helping our club," she said. "And we went up there (recently), because I go up there and hike all the time: (It's) burned up again already. What is the matter with these people?"
If Roppel sounds frustrated, it's because she is.
"I really hate to think we have people in our community that do things like this," she said. "And if people know that there are people ruining things and wrecking the look of our town and things that people are trying to do good, you would think they would report it."
Despite the setback, First City Rotary still plans to complete the beach access project. It's going to cost more now, and Roppel said it'll take a little longer, too.
This apparent act of vandalism was discovered soon after the office building at Ketchikan Youth Initiatives' planned new paintball site was severely damaged. That vandalism, plus some target shooting that was too close for comfort, prompted a crew of AmeriCorps volunteers to halt work on the paintball site, at least until those issues were resolved.