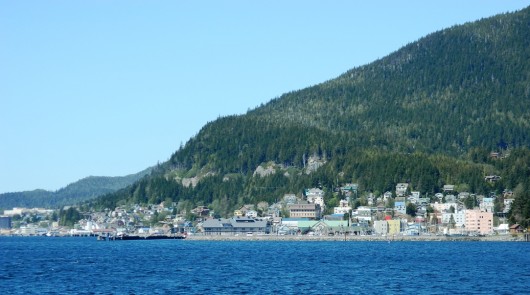 In a split vote Thursday night, the Ketchikan City Council narrowly approved a motion to move forward with design work to adjust the city's water treatment system. The $75,000 contract with CH2M-Hill will bring the project to 35 percent of design, which will provide a cost estimate for completion.
Here's the problem: The city's source of water has a lot of organic material floating around in it. When that organic material comes in contact with the chlorine needed to kill viruses, byproducts are formed. Those byproducts are regulated by the EPA, and the city's treated water has had too many byproducts.
So, Ketchikan put in a new system that uses chloramine – a mixture of chlorine and ammonia — and ultraviolet radiation. That takes less chlorine, which means fewer regulated byproducts. And the good news is, the city's new water treatment system has reduced federally regulated byproducts to below allowed levels.
But, they are still too close to the threshold. And warmer weather means those levels likely will rise.
The proposed adjustment would add less chlorine at the start of the system. After the water has gone through the UV treatment, the rest of the chlorine would be added, along with ammonia.
There was a definite sense of reluctance as the City Council talked about adjusting Ketchikan's brand-new water treatment system. But City Manager Karl Amylon said it's a proactive step that the city should make.
"If we stop where we are now, knowing what we knew for over a year, that two-point chlorination might be necessary to supplement chloramines, to deal with things like warmer water in the summer months, it's going to make our case that much more difficult if we're not showing some kind of forward momentum to DEC and EPA," he said.
Council Member Marty West said she doesn't recall ever hearing about the need for any adjustment.
"I don't remember there being discussion about the need for a secondary injection process," she said. "Why didn't we put it in the plans 10 years ago?"
Floyd Damron of CH2M-Hill said that the current design was adequate 10 years ago, but Ketchikan's water changed.
"We don't know exactly what is going on, but 10 years ago, your peak haloacetic acids was around 90 or 100 parts per billion," he said. "More recently, we've seen those numbers at 140 or 150."
Damron said the adjustment is simple. While he couldn't give any firm numbers yet, he predicted that the total cost would be between $1.25 million and $2.5 million.
West asked whether the change would solve Ketchikan's source water problem, but Amylon said no; that's a whole different issue.
Ketchikan Lakes, which is the source of the city's drinking water, has more than allowed levels of coliform, a problem that CH2M-Hill is looking into. If those levels remain above the federal limits, the city could be forced to build a filtration plant.
Council Member Judy Zenge said it appears inevitable that the city will have to filter.
"I agreed with chloramination, because I do believe it was the best science that we had at the time to provide cost-effective water to the community," she said. "But as we move forward … we're going to eventually have to have a filtration plant. My concern is that we spend all this money and it's all for naught and we still have a problem."
A conventional filtration plant would cost about $35 million to build, and would be more costly to operate than the current treatment system. A membrane microfiltration system likely would cost less, but that is relatively new technology that the city hasn't yet fully explored.
Damron stressed that for every year the city avoids building a filtration plant, ratepayers save an estimated $2 million.
One concern brought up by Council Member DeAnn Karlson is with CH2M-Hill itself. The city has had a long relationship with that consulting firm, and she suggested that it might be time to look at options.
"Are there not other companies out there that do this kind of thing that we could get a second opinion from?" she said. "Or may want to provide us with a competitive quote to provide this 35 percent schematic?"
Amylon said the city can do that if the Council wants, but there are additional costs related to getting a new company up to speed on such a complex project.
Zenge later asked that a peer review of the new water project be placed on the next meeting agenda.
The $75,000 contract with CH2M-Hill was approved 4-3, with Karlson, Zenge and KJ Harris voting no.
Also on Thursday, the Council approved a list of budget cuts that City Manager Karl Amylon presented, to offset additional health insurance premium costs for non-union employees. The cuts are more than needed to pay for the premiums.