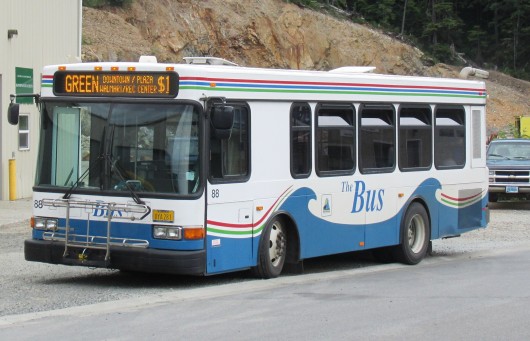 Starting Monday, Ketchikan's bus system is expanding service north, south and within city limits. The schedule change is an attempt to reduce — maybe even eliminate — summertime delays while at the same time serving more people.
Here's a really brief, overly simplified summary of the changes: Green Line northbound will skip downtown and use the bypass, Green Line southbound will have new stop in the Carlanna area, at Fairview and Hill; the Silver Line will extend North End service to Clover Pass Church, and South End service to Roosevelt Drive; and a second, free summertime shuttle will run between downtown and The Plaza mall.
Now, to explain the details, here's Transit Director Kyan Reeve. He'll start with the Green Line, which tends to experience the worst summertime delays.
"After it stops by the library, rather than turning around and backtracking all the way through town, which takes quite a bit of time, it's going to utilize that fancy bypass – that Third Avenue Bypass – it's gonna shoot down that, take advantage of slightly faster speeds that are posted on the bypass, and then it's going to drop right down to The Plaza mall," he said.
That's Green Line northbound. Heading south, the Green Line will offer a new bus stop in the upper Carlanna area.
"Because we're making up that time by utilizing the bypass, something we've been wanting to do for years because it opens up service to about 1,000 more residents, is to get a little bit further up Carlanna," Reeve said. "What we've done there historically is we've just gone along Baranof, which a lot of people will attest, it's a bit of a walk, especially that steep hill, and during inclement weather, it's a long ways up to the top."
The new stop at Fairview Avenue and Hill Road will see a southbound bus come through every hour. The Green Line southbound then will connect to its old route on Baranof, and hit all the former stops on its way downtown.
Now for the Silver Line, which comprises two buses that previously just went back and forth along Tongass Highway. Now, though, the southbound bus will offer additional service to the public library.
"The only real change for Silver Line South is, it's going to come in and then shoot up over the bypass once it hits The Plaza," Reeve said.
Silver South then will stop at the library, and head downtown via Schoenbar Road, which provides additional service for the Gateway Recreation Center, as well.
The Silver Line also will now offer stops further north and south than previously. But only during peak commute times. Transit Project Coordinator Leslie Jackson said that opens up service to people who live beyond the former route limits, but who would like to use the bus to get to work.
"At two times of the morning – 6:01 and 7:01, we'll be coming by to pick people up and take you into town," she said. "And we'll be coming back in the evening, at 5:01, 6:01 and 7:01. That's an exciting service we have to offer, and just gives more opportunity to get those people into town and back out during work hours."
The new commuter stop on the North End is at Clover Pass Church; and the new South End stop is at the top of Franklin on Roosevelt Drive.
Reeve said the commuter service could help save residents some money over time.
"A lot of people have come to me just recently, and said, realistically, it takes then a gallon of gas, each way, to drive in and out," he said. "Anyone that's getting 14-15 miles to a gallon will attest, if you live out there, at $4 plus a gallon, you're looking at probably $8 a day round trip, depending on the fuel economy of your car."
And for North End residents who still live too far from the bus stop to walk – especially on rainy days — Reeve said that Clover Pass Church has agreed to let commuters park during the day in a portion of the church lot, providing a park-and-ride service. Signs will indicate where bus riders should leave their cars.
All these changes aren't without some sacrifice. Reeve said that the area between E.C. Phillips and the Discovery Center will have somewhat reduced service.
But, he said, the second free shuttle will supplement service in that area.
"That free downtown shuttle is going to go from Berth One and the Federal Building there, between there and The Plaza," he said. "Probably the most important part of this service, the second shuttle, is going to allow, when the Silver Line comes in from Totem Bight packed full of visitors, once it gets to The Plaza, that little free shuttle will transfer folks off of the Silver Line onto the shuttle so that they can get to Berth 4, Berth 3, and that allows the Silver Line to have room for locals who may be at the rec center or library."
The new shuttle will run between downtown and The Plaza every 20 minutes. A free shuttle that has been operating for the past few years in just the downtown core area will continue to run every 20 minutes, as well.
Tourist use of the borough's transit system is the main reason for summertime delays. Often the buses are completely full and have no room for riders, who then have to wait for another bus. Plus, Reeve said, tourists aren't familiar the system.
"A lot of times, a visitor will come on and they'll ask the driver questions, they'll ask other passengers questions and they'll really slow down the system," he said. "We try as best we can to speed that process, but the reality is, it's time consuming."
The new bus schedule starts on Monday. Reeve said members of Clover Pass Church have something special planned for commuters that morning.
"The church, actually is going to be serving coffee and tea and scones out there," he said. "So, they'll be on hand from about 5:45 a.m. until 7 a.m. that day. So there'll be folks there to help you sort out where to park. And come a little early so you can grab a coffee and a scone."
Jackson said there also will be coffee and pastries at the new South End commuter stop, as well, starting at about 7 a.m.
New route maps and schedules are available on the borough's buses, through the transit department and online at http://www.borough.ketchikan.ak.us/145/Transit