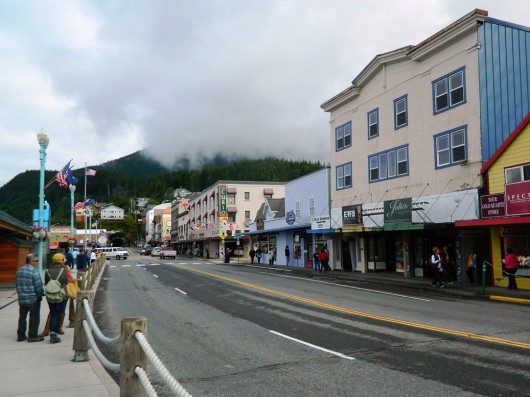 The Ketchikan City Council agreed during a special meeting last week to place a couple of $5 million bond packages on the October ballot, to pay for water and sewer pipe replacement projects. If city voters approve the two measures, it will mean rate increases of up to 11 percent for water, and 14 percent for wastewater.
The special meeting initially was scheduled for the Council to talk about the city's upcoming 2015 budget process. The issue of bonds was added later, but bonds are a budget concern, because more bonds means more debt that must be paid for somehow.
"I fought with myself all week, going, 'Jeez, we don't need to bond anymore, we are so much in debt.' But this is a need, not a want. We've got to have infrastructure," said Council Member KJ Harris, who tends to vote against bond packages.
He also noted that the city would pay for only a small portion of the cost. If an application for the state's 70-percent reimbursement program is approved, the bonds would provide the city's required 30-percent match.
The work would take place on Schoenbar Road, Chatham Avenue, and Front, Mill and Stedman streets. According to city officials, the water and sewer pipes on those streets are old, deteriorating and need replacement.
Council members want to make sure voters understand that the rates will have to go up, and agreed that information to that effect should be included on the ballot.
Council Member Marty West asked City Manager Karl Amylon about the consequences of voter rejection.
"If we didn't proceed with this project, what would happen? Are we looking at a collapse in those systems?" she said.
Amylon responded: "Depending on what project you want to talk about. The Chatham project – it's not a question of if that system is going to fail; it's when it's going to fail."
Amylon added that doing nothing will cost more in the long run.
The two bond packages both passed, as did resolutions approving applications for the state's matching grant program.
During the budget portion of the meeting, Council members took turns discussing their priorities for the 2015 budget process. Council Member Dick Coose said he doesn't want any increase in the current budget, and no tax increases. He suggested not filling empty positions and delaying capital projects.
Council Member Judy Zenge said the city should look at how it funds grants to community nonprofit organizations.
"We're making a lot of cuts, we have a lot of projects we're going to have to get done," she said. "Giving out $358,000, we're going to have to look at cutting that."
Council Member DeAnn Karlson said the city will have to make some difficult and unpopular choices, unless it can figure out how to grow money on trees.
Council Member Matt Olsen, participating by phone, said he doesn't want to see services reduced and he doesn't believe that city residents want that, either.
"Everyone is affected by inflation, including government entities. We need to take that into account and allow for that, and do what we can to fund it in a way that A) doesn't hurt us as a community, but B) that allows us to continue to progress and take care of the issues that are facing us at this time," he said.
Council Member Bob Sivertsen said he wants to see utility rates adjusted to better reflect actual use. He noted that residential water and sewer rates subsidize commercial users.
City Manager Amylon, wrapping up the meeting, told the Council that while the city budget is looking OK in the near future, the Ketchikan Public Utilities budget will be a problem.
"Next year, you're going to have almost $2 million more in debt than this year," he said. "If you think that I can cut $2 million out of the KPU budget, that's a pretty aggressive goal."
That added debt is primarily from the Whitman Lake hydroelectric dam and costs associated with launching KPU Telecommunications Division's wireless phone service.
Amylon said that KPU's rate structure is inadequate, and can't pay for important capital projects.
City staff soon will start putting together draft 2015 budgets for the city and KPU. The Council traditionally starts its review of those spending plans during a series of budget meetings in November and December.