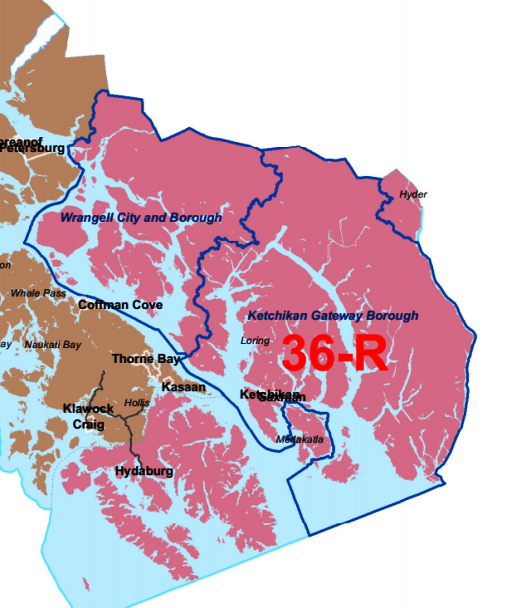 The Republican candidates for House District 36 sat down for a live call-in forum at KRBD on Tuesday. Chere Klein, Patti Mackey and Agnes Moran talked about various topics relevant to the region, as well as statewide issues.
The three House District 36 Republicans are philosophically very similar. For example, they all plan to vote against Ballot Proposition 1, an initiative to repeal the state's recently adopted oil tax.
Here is Patti Mackey, who is the executive director of the Ketchikan Visitors Bureau: "Without a doubt, I plan to vote no on that proposition. I do not support it, and my reasons are pretty cut and dried. Alaska is in the business of selling oil, and as a state, we depend on those royalties that we receive from oil sales. As someone that's providing a product to a customer, Alaska needs to remember that if the customer isn't happy with the price, they're going to go elsewhere."
Chere Klein said the oil tax plan is the result of a lot of hard work by elected representatives, and it encourages new production.
Agnes Moran said that when she votes no on the proposition, she's actually voting yes for increased production and investment in Alaska's oil.
That measure will be on the primary ballot on Aug. 19. Three other ballot measures will be on the November general election ballot, and the GOP candidates all plan to vote against those, as well. They deal with marijuana legalization, raising the state's minimum wage, and limiting mine development in Bristol Bay.
Agnes Moran, an elected member of the Ketchikan Gateway Borough Assembly, said she's voting no on marijuana legalization because Alaska's pot laws already are lenient enough. She's voting against the Bristol Bay proposition, because she doesn't believe in giving one area special consideration – there should be a policy solution instead.
Here's her reason for voting against the minimum wage proposition: "The thing I think people forget about minimum wage, is that minimum wage is a starting point, it's not a destination. Minimum wage is designed for entry-level positions. … The other thing I don't like about this proposition is that is includes automatic wage increases. When you have automatic increases built in, there's no regard at all for what's going on in the economy at the time. The economy could tank, and the increase still goes forward."
Mackey said she doesn't like ballot initiatives, because they circumvent the legislative process, and they tend to be poorly written. Because of that, she said, if they pass, the Legislature has to take a lot of time figuring out how to implement them.
Klein said the marijuana initiative doesn't regulate strength, and she's concerned about candy-like products that children could mistakenly eat. She said minimum wage increases could lead to higher consumer costs, which would defeat the purpose. And, Klein said the state already has a process in place for proposed mines, which should be followed for Bristol Bay.
Because the three candidates have similar positions on the issues, we wondered what sets them apart as the better choice in the upcoming primary election.
Chere Klein most recently worked as a legislative aide for retiring House District 36 Rep. Peggy Wilson. Klein said that is one example of the valuable experience she would bring to the job.
"At the age of 14, I started working in the visitor industry, heavy construction, Ketchikan Chamber of Commerce, oil spill response, finance and health insurance throughout my working career," she said. "I've owned and operated my own small business for about 15 years, where I work in Ketchikan, Prince of Wales and Wrangell. And then my husband and I have also owned and operated a business in Wrangell for the past 18 years."
Wrangell is part of House District 36, which also includes Ketchikan, Metlakatla and Hydaburg.
Moran said she is a better choice because she is the only candidate who has served in elected office. She said she knows the issues, and is especially knowledgeable when it comes to state funding for education.
Mackey said she has traveled to Juneau many times to lobby for the visitor industry, and has been active in Ketchikan's legislative liaison lobbying trip. She said those experiences allowed her to build relationships in Juneau that would prove helpful as a legislator.
The three candidates for House District 36 will be on the Republican primary ballot on Aug. 19. The winner of the primary race will face Dan Ortiz of Ketchikan in the November election. Ortiz is running as an independent.
The entire one-hour forum is posted below.