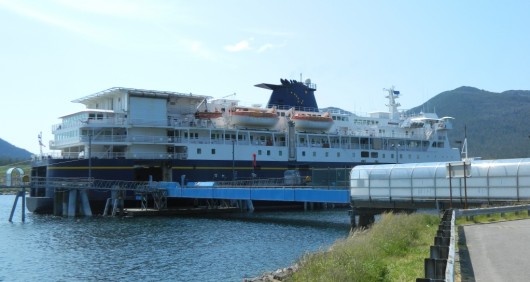 Alaska Department of Transportation officials will be in Ketchikan Wednesday for an open house and public meeting focused on the draft Southeast Alaska Transportation Plan.
The draft calls for maintaining existing Alaska Marine Highway System routes, but retiring up to three mainline ferries. Replacement of ferries would depend on ridership demand. It also calls for a new road connecting Petersburg and Kake, a road from Sitka to Warm Spring Bay, an airport for Angoon, and completion of the Juneau Access project.
The Juneau project includes two smaller ferries that likely will be built at the Ketchikan shipyard. According to the draft plan, when the two smaller ferries are completed, the state intends to retire either the Matanuska or the Taku. At that point, service to Prince Rupert would change, and could be reduced.
The draft plan doesn't include any action related to Ketchikan's Gravina Access Project. That point was a concern included in comments approved Monday by the Ketchikan Gateway Borough Assembly.
Chris French, the borough's planning director, summarized the comments for the Assembly.
"The comments addressed four major issues: One is Gravina Island Access, which there's no discussion in the draft plan regarding; funding of the Ketchikan International Airport, which pushes for fair and equitable funding of the airport by the state; AMHS service reduction in southern Southeast Alaska; and the turning over of state-maintained roads to local governments," he said.

The borough's comments disagree with the concept of giving state roads to municipalities to maintain, especially if that practice is applied only to organized boroughs.
Regarding Gravina Access, the borough's comments stress that the preferred plan would involve a bridge. If that is rejected by the state, then the borough requests improved ferry service to Gravina, which is where Ketchikan's airport is located.
Assembly Member Bill Rotecki, while agreeing with the rest of the comments, prefers ferries over a bridge.
"Let me remind folks that it'll be too short, cruise ships will be turned away. In the winter, it'll be a disaster, we'll have to have a ferry anyway," he said. "So we're talking about a bridge and a ferry."
Tomorrow's meeting will be at the Ted Ferry Civic Center. An open house is set for 5:30 p.m., and the public-input portion of the meeting begins at 6:30.
Click here to download the draft transportation plan: www.dot.alaska.gov/satp.