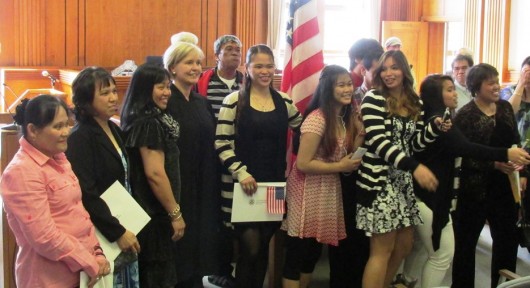 Eighteen Ketchikan residents became U.S. citizens Wednesday. The ceremony took place in the courtroom of Ketchikan's historic downtown federal building.
The back rows of Ketchikan's old-fashioned federal courtroom were filled with family and friends, while in the front were all the soon-to-be new citizens, smiling wide, dressed up and holding small American flags.
Federal Magistrate Leslie Longenbaugh officiated the ceremony. She told the group that it's inspiring to see people born in different nations raise their hands and swear an oath to become citizens of the United States, and says that naturalized U.S. citizens have made tremendous contributions.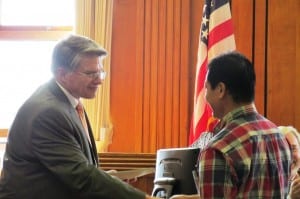 "President Obama recently told some new citizens, 'What makes us Americans is something more than just the circumstances of birth, what we look at, what god we worship, but rather the joyful spirit of citizenship,'" Longenbaugh said. "Another president, Theodore Roosevelt famously said it 100 years ago: 'Americanism is a question of principle, of idealism, of character. It's not a matter of birthplace, or creed or line of descent.'"
Gary Johnson is an officer with U.S. Citizenship and Immigration Services. He presented the petitioners, and then Longenbaugh administered the oath
Everyone then joined in for the Pledge of Allegiance.
Tracy Clark is the port director with US Customs and Border Protection in Ketchikan. He addressed the group after they officially became citizens, and says it's a great day for them, but also for the United States.
"You have the power to shape this country," he said. "We all have that power in us, so I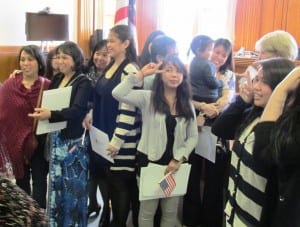 encourage you now that you're citizens to watch the news, see what's going on, see what challenges we face as a country. The world is pretty messy and edgy right now. We have a lot of important decisions and now you have that right, that inalienable right, to go and … shape this country, as a voter."
Each new citizen then was invited to speak. They gave their names and the country that they came from, The Philippines, Saudi Arabia, China, Russian Republic of Georgia and Nigeria. They all added that they are proud to be U.S. citizens.
After the ceremony, the new citizens and their family members flocked to pose for photos with Magistrate Longenbaugh, Gary Johnson and the courtroom's large U.S. flag.
Music for the naturalization ceremony was performed by Johanna Collins, Chaz Staunton and Marna Cessnun. They sang the Star Spangled Banner, and America the Beautiful. Click below to hear both songs.