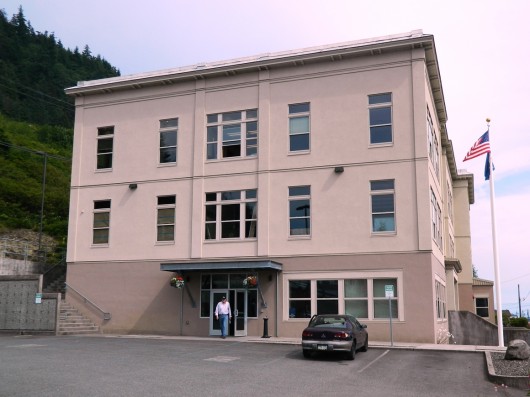 Candidates for Ketchikan Gateway Borough Assembly, mayor and School Board attended this week's Chamber of Commerce lunch to answer a few questions about current issues.
Seven candidates sat in front of the Chamber of Commerce lunch crowd and introduced themselves. Most are running uncontested.
In the School Board race, incumbent Board President Michelle O'Brien will be on the ballot along with Glenn Brown, a newcomer to local politics.
O'Brien says the reason she's running for re-election is simple: "I love kids. I love seeing them succeed, I love seeing them overcome hurdles they have in their lives."
O'Brien says that to help those kids succeed, the School Board needs to focus on how education is changing. Increasing vocational education and technology are two key components. But, she says, that has to happen in a fiscally responsible way.
"We can't do that without having a very cooperative relationship with our Borough Assembly," she said. "That's perhaps the number-one thing I'd like to improve."
The School Board and Borough Assembly have had a contentious relationship at times. While the School Board writes and administers the school district budget, a large chunk of that budget is provided by the borough. The school district budget also must be approved each year by the Assembly.
Glenn Brown is the director of the Ketchikan Youth Court, and moved to Ketchikan about three years ago from Pennsylvania.
"In Pennsylvania I practiced law for 18 years," he said. "I'm an active member of the Alaska Bar, but I don't do any harm right now. I'm not practicing."
Brown says he served on the School Board in Pennsylvania, so he has some experience with education issues. He says the Ketchikan School District is in pretty good shape, but there are a couple of things he'd like to improve.
"Graduation rate here, I think it could be better," he said. "But at the same time, some of what the district is doing on the vocational/technical end is really hitting the sweet spot of that."
The two School Board candidates are running for two open seats.
For Borough Assembly, three candidates are running for three open seats. They are incumbents Mike Painter and Glen Thompson, and former Assembly Member John Harrington.
Painter says he arrived in Ketchikan with his family about 46 years ago. And about a decade ago, he got into local politics.
"I am proud of the accomplishments that I've been part of as a Borough Assembly person," he said. "When I was first elected, our millage rate was considerably higher than it is now. And I think we have done a lot of things with the borough that I'm proud to have been a part of."
Thompson says he agrees with O'Brien that the Assembly needs to heal its relationship with the School Board in order to ensure a quality local public education system.
"It is our first and only job that we have. We do schools, we do tax collection and we do planning and zoning," he said. "I think we're doing a good job of it, I think we just need to work a little bit harder on the interpersonal relationships, take some of the personalities out of it and get down to brass tacks."
Harrington noted his prior and current public service, which includes the Planning Commission, the charter commission and the School Board in addition to the Assembly.
"I have this desire to take that seat again and sit there as part of the decision-making process," he said.
The only contested borough seat is the mayor's position. David Landis and Lewis Armey Jr. are running for that job, which the current mayor must vacate because of term limits.
Landis is a former Borough Assembly member. He says the borough mayor's responsibilities include running meetings, signing ordinances and occasionally breaking ties or – very rarely – vetoing an Assembly decision. Generally, though, the mayor isn't a decision-maker.
"The borough mayor's job is to know the Assembly members, know their individual talents, know their relationships to the community and help utilize those talents to come to a good conclusion on the matters as hand, mediate disputes and get to good conclusions with the Assembly," he said.
Armey says he's a political newcomer, although he has run unsuccessfully in the past for borough and city mayor. He listed his educational background, which he says includes seven associate's degrees, a couple of bachelor's degrees and some partial work toward master's degrees. Armey says he wants a government that helps the people.
"Any government, I don't care who it is, why it is or what it is, is geared for people," he said. "It's not geared for self-profit whoever is running the government. That's wrong. It's for the people."
The first question candidates were asked was how they planned to vote on Ballot Proposition 2, which would legalize marijuana. Most responded that they would vote no. Thompson says he hasn't made up his mind yet. He says he understands why people are concerned, but the war on drugs has been a failure.
Armey was the only firm "yes" on that issue.
"I'll be honest with you: I've been smoking nonstop since I was 13 years old and I've probably got a higher education than a lot of people in this room," he said. "So as far as it making you into a retard, try again."
Assembly candidates were asked whether they would appeal if the lower court rejects the borough's lawsuit challenging the State of Alaska's education funding system.
Painter says that at this point in time, he would not move forward with an appeal, but he would be open to advice from the borough's legal counsel. Thompson says he would be inclined to move forward with an appeal, because the issue is significant and should be addressed by the state Supreme Court.
Harrington says that Alaska's required local contribution hurts the whole state.
"It's damaging in areas that need to improve services, it's damaging in places where they need a borough but refuse to set one up because of the dramatic increase in taxes," he said. "This needs to be resolved, and I suspect no matter what happens, it will end up at the Supreme Court and I would support that."
The candidates also were asked about consolidating the borough and city governments. Here's Landis, who said he'd take about 15 seconds to answer that question: "What a great idea. It's never going to happen."
The community has voted on and rejected numerous attempts to combine Ketchikan's local governments. The other candidates agreed that the people have spoken, so they're not going to try and change the current system.
Candidates for Ketchikan City Council are scheduled to attend the Sept. 17 Chamber of Commerce lunch. The local election is Oct. 7.