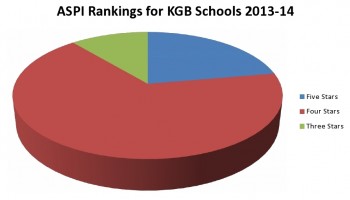 Ketchikan-area schools showed improvement in the second year of a statewide evaluation program.
Last school year, Ketchikan schools averaged an A- in the Alaska School Performance Index.
Ketchikan Regional Youth Facility earned the highest marks with a score of 95.24, a five-star rank. It also showed the biggest improvement from the previous school year, when it scored 51.25, a single-star rank.
That improvement counts. The ASPI system gives schools credit not only for academic achievement, but for student progress. The growth data makes a difference, said Shannon Sines, curriculum director for the Ketchikan Gateway Borough School District.
"So that really gives two outlooks on student performance: How are they achieving, but also even if they're not making that proficiency mark, are we making progress with them," she said. "That's one of the reasons why our ASPI data looks good and is on the rise because we're making progress even with student who have not met the proficiency mark just yet."
In addition to the youth facility, Point Higgins Elementary School also earned a five-star rank.
Four-star schools are Fawn Mountain Elementary, Ketchikan Charter, Houghtaling Elementary, Schoenbar Middle, Ketchikan High and Tongass School of Arts and Sciences. Revilla Alternative School earned a three-star rank.
In Metlakatla, Richard Johnson Elementary received five stars; Metlakatla High, four stars; and Charles R. Leask Middle School, three stars.
The ASPI system is new – it's only been used for two years so far. That's because a couple of years ago, the U.S. Department of Education allowed individual states to establish their own accountability system in lieu of the Adequate Yearly Progress system set up by the No Child Left Behind Act. Erik McCormick is director of assessment, accountability and information management for the Alaska Department of Education and Early Development.  He said the old system aimed to have a 100 percent proficiency rate, a goal McCormick calls unrealistic.
"It was a 12-year projection, and we're entering the last two years of it, which would require that all schools made 100 percent proficient, and that was never realistic measurement," he said.
McCormick said the new system allows for more transparency as to how schools are evaluated, as well as less severe sanctions for schools that are not performing well.  Attendance, graduation rates and test scores are used to calculate ASPI scores and ranks.