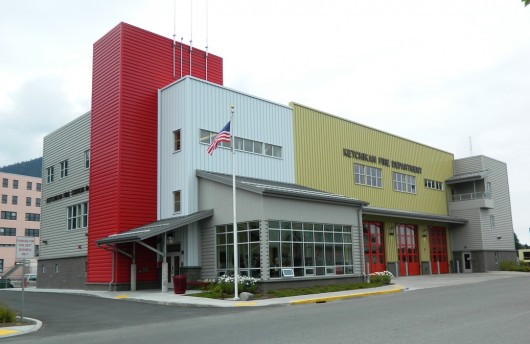 The City of Ketchikan recently received news that the fire protection rating for the city's fire department is changing.
Ketchikan Fire Department's fire protection rating is going down. It's dropping from a combination Class 4-Class 8 rating to a Class 2-2.
That's a good thing, because in this case, lower scores are better.
"It's a really huge accomplishment for the fire department," said Fire Chief Frank Share.
He said a lower rating from the national Insurance Service Office means the department is moving in the right direction.
"All the guys and gals here pitch in to make this happen," Share said. "The record-keeping ability, the response times, the readiness. One of the other big factors is the amount of training they do. All that plays a huge role in what your rating is. They're really telling you what your ability is to protect structures from fire."
The rating is used by insurance companies to help determine rates for residences and businesses. Share said the new rating won't make a huge difference for Ketchikan homeowners – maybe a few dollars. But businesses, which often need to carry more fire insurance, will see a benefit.
"For example the shipyard versus a house," he said. "They (the shipyard) are doing some processes in there where they're welding. They've got different things going on that are a little bit higher risk. This rating measures our ability to mitigate that fire."
The new rating puts Ketchikan in an elite group. Only two other fire departments in Alaska have achieved this rating – the Municipality of Anchorage and the University of Alaska Fairbanks. Nationwide, only about 750 fire departments out of about 47,000 obtain a Class 2 or better.
"It's absolutely outstanding," Share said. "I can't say it enough: I couldn't be more proud of this fire department."
This news is a great departing gift for Share. He's about to retire from the Ketchikan Fire Department. But, he's leaving the department in good shape.
"It was a great department when I got here. It's a great department today and I think it's going to be a great department in the future," he said. "It comes down to teamwork. It's not one person or any small group. It's really a whole team effort here."
Share's retirement starts at the end of October.