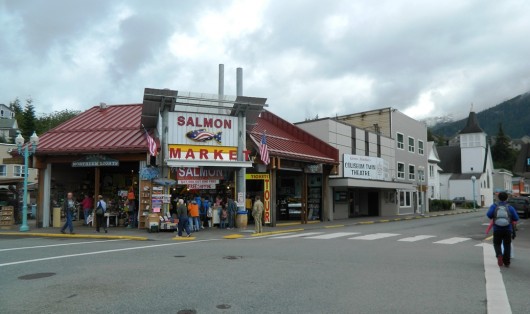 The Ketchikan City Council heard Thursday from some downtown business owners about the increasing problem of hawking – store employees who call out to potential customers in an attempt to lure them into a store.
The downtown retail area is extremely competitive during Ketchikan's busy summer tour season. Susan Peters, who owns Scanlon Gallery downtown, told the Council that the practice of hawking has become "horrible."
"Our visitor industry is very important to our community and I'd say almost on a daily basis I get complaints from visitors that are stopped or asked almost every other store on certain streets and on the docks," she said.
Peters said other Alaska communities with heavy tourist traffic have measures in place to curb hawking. Skagway and Juneau, for example, hire enforcement officers who give citations.
Fred Abajian owns the Salmon Etc. store downtown. He said he has a clear view of the intersection of Mission and Main, where people are selling tours from storefronts, along with the jewelry and souvenir shops that are trying to attract customers.
"You can hear them from my store quite easily," he said. "I've seen them venture out on the sidewalk, talking frantically with people. It makes our town look real tacky."
Another downtown shop owner, Deepu Budhrani, suggested that people selling tours on the street be given a building for that activity. He said something must be done about the hawking.
"It's becoming a very cheap image," he said. "This is the first year that I see it happening to this scale. We've been here almost 20 years. Last year it started, I think we need to put an end to it."
Assistant City Manager David Martin told the Council that city code currently allows hawking from private property.
"I don't disagree with anything that's been said so far tonight. It is really bad," he said. "But, we simply don't have the tools to deal with those types of things that happen from the private property."
City Mayor Lew Williams III asked Martin to look into the enforcement regulations used by Skagway and Juneau, and bring the information back for the Council to consider.
Earlier this week, the Ketchikan Gateway Borough Assembly responded to a similar appeal from downtown business owners. That body agreed to forward the issue to the Cooperative Relations Committee, a group of city and borough officials that deals with issues of mutual concern.
Also on Thursday, the City Council accepted a $200,000 grant from the Ketchikan Gateway Borough to help pay for design work on the planned Hole-In-The-Wall Harbor reconstruction project. The Council also approved a contract with PND Engineers to do the design work.