The Forest Service awarded a contract Tuesday, Sept. 30, to log two-thirds of a controversial Southeast Alaska timber sale. Officials say it's the first of several contracts for an area called Big Thorne.
Prince of Wales Island's Viking Lumber Co. beat out four other bidders for what's called the Big Thorne Stewardship Integrated Resource Timber Contract.
That name means the Forest Service sells timber to Viking, but reduces its cost in exchange for trail repair, stream restoration and other stewardship work.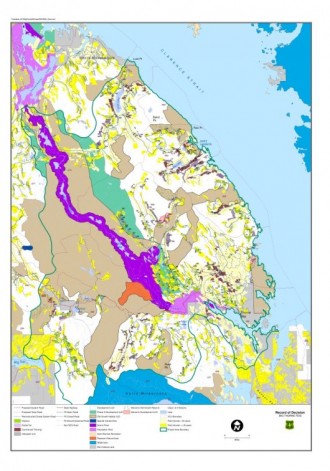 Tongass Forest Supervisor Forrest Cole oversees such sales.
"Typically, we've put up timber-sale contracts and we award them to the highest bidder. This being a stewardship contract, it not only has a timber component, but it also has service work that we expect," he says.
The Forest Service won't release the amount Viking will pay, the value of the stewardship work or the contract itself. Cole says that's because the contract has not yet been signed.
Viking, meanwhile, does not respond to interview requests.
But Cole shared some details.
The contract calls for almost 3,800 acres to be logged between Thorne Bay and Coffman Cove. About half would be clear-cut, the other half selectively logged, including some thinning.
"So they can log and generate credits, do the service work and it gets covered that way. Or they can do the service work and then stumpage will be offset to cover that payment," he says.
The contract calls for about 85 miles of new or repaired roads. About 15 miles of that will be removed once logging is done.
The full Big Thorne sale includes more than 6,000 acres of old-growth forest, plus around 2,000 acres of second-growth.
Cole says logging won't start until spring. That's part of a deal cut with environmental groups challenging the entire Big Thorne sale in court.
"What we have agreed to is a briefing schedule to try to get a decision out of the District Court by April 1. And April 1 is significant because that's the beginning of operating season," he says.
Viking was the winner bidder on last year's version of the Big Thorne sale. Court challenges kept that from happening.
The Juneau-based Southeast Alaska Conservation Council is one of the parties suing to block this year's sale.
SEACC Communications Director Daven Hayfe says the sale, and those like it, are costing the Forest Service government millions of dollars.
"So, when we're talking about federally subsidizing a 6,100-acre clear-cut, and exporting half of that overseas to Asia without any local processing, we're very literally talking about a giveaway," he says.
Hayfe supports stewardship work. The goal is to restore streams, rivers and other fish and wildlife habitat damaged by past logging.
But he says the contract is the wrong way to do it.
"Repairing bridges, replacing culverts, trail maintenance, thinning, all that is very important work on the Tongass. But it should not be paid for with continued, large-scale, old-growth clear-cut logging," he says.
The Ketchikan-based Alaska Forest Association, a timber industry organization, isn't objecting to a combined contract.
But Executive Director Owen Graham says it's too small.
"The sale's only two-thirds as big as it's supposed to be. But at least it exists," he says.
Graham says Viking could run out of the timber it has before the contract's spring starting date. And that's only if the sale makes it through the courts.
He says officials are not making enough of the Tongass available.
"We also need to work with the Forest Service to get a continuous stream of additional timber, so they have some longevity and they don't have to liquidate that Big Thorne timber sale quicker than planned," he says.
Tongass officials will soon announce contracts for at least three smaller sales within the Big Thorne area.
Cole says it's all part of a new direction for forest management in Southeast Alaska.
"The whole intent of this transition is to keep the current industry alive, which would allow them to have sufficient volume to generate revenues to create a retooling effort to get to this young growth timber supply," he says.
The agency's Tongass Advisory Committee is meeting to consider how to make that transition. Its report is due out in May.
Read and hear earlier reports: