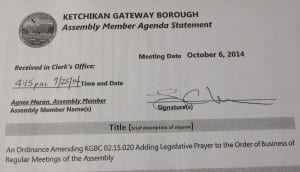 An ordinance that would add a prayer to the regular Ketchikan Gateway Borough Assembly meeting agenda passed in first reading Monday. The vote was split 4-3, with some on the Assembly expressing concern about inadvertently excluding some people with different beliefs.
Six people testified during the Borough Assembly's public comment period about the proposed prayer ordinance. Five of them favor the proposal. Of those five, three are local pastors.
Gary Souza is with the Ketchikan Church of Christ and is president of the Ketchikan Ministerial Association. That organization is, understandably, happy to endorse the proposal. Souza adds that legislative prayer is not a new thing, "as our forefathers were strong believers in the Judeo-Christian ethic and belief. The current Congress and Senate both have chaplains in (Washington) D.C. and these invocations are something that's been carried on in Juneau for many years. We strongly support this and encourage you to embrace this and make this law."
Dave Spokely said the country was founded by people who believed in religion. He said the Constitution makes church free of state, but doesn't make the state free of church, and that prayer sets a moral foundation for a community.
Pastor Bill White of the Lighthouse Church of God said he's been praying for local government for many years already.
"But it would sure be a notch in our faith if we saw that you were receiving and asking for this," he said.
Pastor Fred Adams also spoke in favor of the ordinance. He said he has served overseas as a missionary, and that people elsewhere are observing a moral breakdown in the United States. Adams said prayer would honor what God has done for this country.
Eric Muench provided the only public comment against the proposal. He said the Assembly meetings shouldn't be turned into quasi-religious gatherings.
"Private prayer and reflection might be useful and helpful for some, but subjecting the entire public to a unified prayer performance is coercive and objectionable to many, including me," he said.
During Assembly discussion of the proposal, which was submitted by members Glen Thompson and Agnes Moran, one Assembly member tried to expand the definition of who could offer invocations.
Bill Rotecki said he's not opposed to the concept, but he doesn't want anyone to feel left out.
"Many people came here, not just the Founding Fathers, for religious freedom," he said. "And to institute anything as the prior religion or invocation is I think contrary to the principles on which this country was founded and has continued to be governed."
Rotecki suggested adding atheists to the list, which already provides for any religious group that wants to offer a prayer.
Thompson objected to that.
"Atheism means not god, and that completely guts the whole intention of this ordinance and I think it's inappropriate," Thompson said. "I don't have a problem with having an inclusive denominations, be they Hindu, Islam, Bahai faith, Christian, what have you. I will draw the line on Satanists or atheists."
The day after the Assembly meeting, Thompson recanted that comment. He now says he would be willing to hear a prayer from anyone interested in presenting one.
Rotecki's amendment failed with only Rotecki voting in favor.
When it came to the main motion, Assembly Members Todd Phillips and Alan Bailey spoke against establishing prayer at Assembly meetings. Phillips noted that religion is personal. Bailey said he's worried about excluding people.
Assembly Member Mike Painter, while voting in favor of introducing the ordinance, didn't seem convinced that it's been fully thought out. He noted that it's not clear who will administer the invocation list, and that there's no time limit for prayers.
Borough Clerk Kacie Paxton said it was suggested that requests to give invocations go through the clerk's office, and Mayor Dave Kiffer said 30 to 40 seconds should be adequate for prayers.
Borough Attorney Scott Brandt-Erichsen weighed in on the legality of the language. He said the ordinance is worded well, but the borough will have to be careful about it's administered.
"The ordinance itself simply puts a location on the agenda for an invocation, but if, in the administration of that the clerk or the mayor or whoever is charged with scheduling those is not being even-handed, then that action could create a problem," he warned.
The ordinance passed in first reading 4-3, with Rotecki, Bailey and Phillips voting no. A public hearing and second reading of the measure are scheduled for the Assembly's Oct. 20 regular meeting.
This article has been edited to reflect Glen Thompson's comments from Tuesday, Oct. 7.