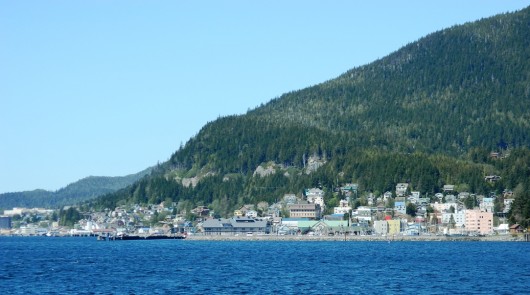 David Landis is the clear winner in the Ketchikan Gateway Borough mayoral race. The unofficial results, before absentee and questioned ballots are counted Wednesday afternoon, show Landis leading with 1,259 votes.
Speaking shortly after the final unofficial results were announced, Landis told KRBD that he is very happy with how it turned out.
"Fantastic. Absolutely fantastic. I'm on cloud nine," he said.
Landis is a former Borough Assembly members. He says he liked the idea of trying the mayor position as a new challenge. Landis says his goal is to improve the interpersonal relationships on the Borough Assembly.
"I want to make sure that we have a good, open line of communications, that we're able to function as a group effectively and get things done for the citizens of the borough," he said. "That extends to the other governmental organizations, both the ones in Saxman, the tribal governments, … the City of Ketchikan, the borough school district and other organizations."
Trevor Shaw, a current School Board member who ran as a write-in candidate for borough mayor is in a distant second place, with 280 votes. So, even if all the 230 absentee ballots and 126 questioned ballots go in Shaw's favor, he still would not be able to catch up.
Shaw says he ran to provide a choice for voters.
"And we took second place with only two-weeks' worth of campaigning as a write-in candidate," he said. "I was excited and I'm glad we did as well as we did. I'm a little bit disappointed that we didn't make it in, but I had fun, got to talk to a lot of great people. (I) thank all the people who supported me. I really enjoy serving on the School Board, so I look forward to being able to do that for the next two years."
In third place is Lewis Armey Jr., who received 186 votes borough-wide.
The Canvass Board meets Tuesday at 1 p.m. in City Hall. The Borough Assembly meets Monday at 5:30 p.m. to certify election results.