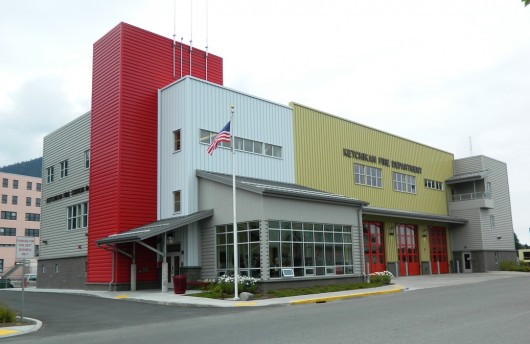 The Ketchikan City Council will decide Thursday whether to hire Unalaska's current fire chief, Abner Hoage, as the new City of Ketchikan fire chief.
According to a memo from City Manager Karl Amylon, a screening committee reviewed 36 applications for the position, and unanimously chose Hoage following an on-site interview. Amylon writes that no members of the local fire department applied for the job.
Hoage has been the fire chief in Unalaska for about two years. Before that, he worked in fire emergency services for the U.S. Air Force in a variety of locations.
Amylon recommends offering a contract with an annual salary of about $102,000, plus benefits. That's slightly less than the salary that retiring Fire Chief Frank Share is making now. Share's tenure at the local fire department ends this month.
Also Thursday, the Council will consider whether to move forward with a proposal to start repair work on a retaining wall in the Thomas Basin area in between the Great Alaskan Lumberjack Show site and Stedman Street. Part of that retaining wall was installed in the 1940s, and the rest was put in sometime between 1965 and the early 1980s.
There are conflicting legal opinions as to whether the city owns the retaining wall, and whether the city is responsible for repairs. In a memo to the Council, Amylon roughly estimates that properly repairing the retaining wall could cost the city upwards of $12 million.
The City Council meeting starts at 7 p.m. Thursday in City Council chambers. Public comment will be heard at the start of the meeting.
This story has been edited to correct an error.