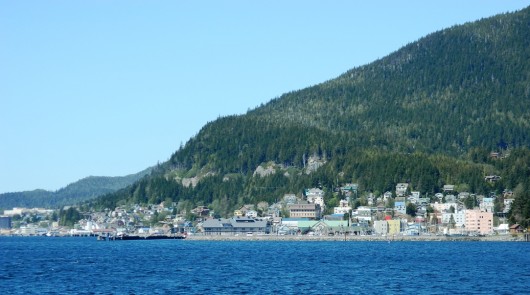 The Ketchikan City Council agreed Thursday night to move forward with a study to learn what's needed to fix a failing sea wall in the Thomas Basin area. But Council members and city officials stressed that they don't intend for the city to take on the full burden of fixing the wall, which they say doesn't even belong to the City of Ketchikan.
The motion to approve the $44,000 study calls for the city to pay for half of that cost, with the other half potentially split between the Ketchikan Gateway Borough and private property owners who will benefit from the improvements. The city has approached the borough manager about the topic, but he was hesitant to commit because the issue hasn't been placed in front of the Borough Assembly.
Council Member Matt Olsen was the only no vote on the motion. He said he wants the ownership of the property to be established one way or another. While city officials contend it doesn't belong to the city, private property owners say that it does.
"We talk about being fiscally responsible, and I have a hard time with us absorbing the majority of the cost when we probably don't own the property," he said.
Olsen also noted that a private entity could take on the repairs at a significantly lower cost than the city.
City Manager Karl Amylon agreed that the city isn't under a legal obligation to fix the retaining wall. However, he said something needs to be done by someone.
"There is no question that wall is failing, and it's starting to fail at an accelerated rate," he said.
Most of the Council agreed that the study is needed as a starting point for whoever takes on the repairs. It will provide a scope of work, and a cost estimate.
Repairing the wall is the first step toward completing the waterfront promenade, which starts at City Float north of the tunnel and is meant to eventually lead unbroken to the Thomas Basin breakwater.
Also Thursday, the City Council agreed to spend $5,000 to intervene in the Big Thorne Timber Sale lawsuit on the side of the U.S. Forest Service. The lawsuit was filed by conservation groups in hopes of halting the sale, which would allow logging in old-growth areas on Prince of Wales Island.
A motion to hire Unalaska's current fire chief, Abner Hoage, as the new City of Ketchikan fire chief also passed unanimously. Hoage will take the position now held by Frank Share, who is retiring effective at the end of this month.