Vigor Alaska and the Alaska Department of Transportation's Office of Civil Rights hosted the second annual maritime and construction career day at the Vigor shipyard Monday in Ketchikan.
There are more than two hundred high school students in a warehouse where steel plates for new ferries will be cut this month. The students came from all over southern Southeast Alaska – from as close as Kayhi to as far as Port Protection. They're here to learn about opportunities in the maritime and construction industries.
Vigor Alaska's Doug Ward said the career day is important not just for individual students, but also for the industries.
"We think career awareness is really important to kids making good decisions, and being able to get this many kids to see what exists in the maritime world is an awesome opportunity for them and a great opportunity for us," Ward said.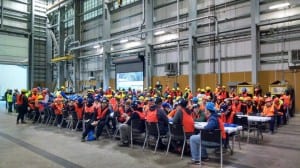 Throughout the day, students toured the Vigor shipyard, manning lift equipment, experimenting with laser cutting machines and visiting control rooms and safety decks. They got a full tour of the ferry Columbia, and went to Taquan Air to see marine aircraft maintenance. The students also participated in a scavenger hunt, and they even got complimentary hard hats and safety goggles.
At the start of the event, several people from the Alaska Marine Highway System and the Department of Transportation's Office of Civil Rights spoke. AMHS general manager Capt. John Falvey said Vigor's $101 million contract to build two new ferries for the marine highway could create 100 full-time positions over the next four years.
"It's a big operation and we are always in need of employees so that's something to think about," Falvey said.
Kayhi senior Kaila Del Rosario also spoke to her peers about the opportunity to see what the working world is really like.
"Just last year, I found my passion in welding. It's the best thing ever. I hope you guys look at this as an opportunity for you to maybe work here," Del Rosario said.
Del Rosario is one of Vigor's first high school interns. She got involved in welding after taking shop classes at Kayhi and after touring Vigor last fall for the first career day. The eight-week program, now in its second year with funding by the Alaska Department of Labor, will continue later this fall with a new class of high school interns.
But the opportunities are available beyond high school, said Amy Wilson, training specialist for the Alaska Marine Highway System.
"We're starting to see more and more kids being interested, which I think is really cool – getting a nice summer job," Wilson said. "It doesn't always match up with the colleges down in Washington, but people can do this seasonally for a few years and then work for us full time."
For some students, the day was interesting, but might not have an effect on their post-graduation plans. But for others, like Kayhi junior Adam Gibson, it reaffirmed interest and opened some new doors.
"It is great to know what you're going into, especially for someone like me – I love engineering and I've been thinking about it for years, (since) like age 5, so just to see the things that are right next door is great," Gibson said.
And that was the goal, Ward said. But, for now, everybody's still looking to the future.
"We're looking around for a young, smart, productive work force to help build two new ferries for the governor that's going to start now in about a week. Who's going to build them? Southeast Alaska! You bet we are."