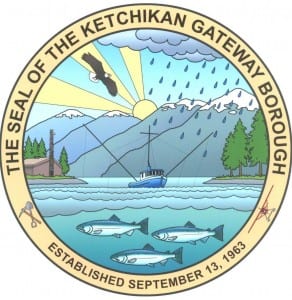 The Ketchikan Gateway Borough Assembly rejected an ordinance Monday that would have added prayer to the regular meeting agenda. The issue was controversial, with many people taking one side or the other during public comment.
Borough Assembly chambers were packed, and most were there because of the proposed prayer ordinance. Ten spoke in favor, and many others stood up when asked who in the audience wanted prayer added to Assembly meetings.
Many of the speakers were ministers. Fred Adams is pastor of a Free Methodist church in Ward Cove. He said giving a little time to the "supreme being" has always brought a blessing.
"I believe that this blessing has caused our nation to prosper in a very powerful way," he said.
Jeff White of the Lighthouse Church of God notes that the Pledge of Allegiance includes a prayer, and that prayer is a historic tradition in the United States. Pastor Bill White of that same church said there are many people in other nations who pray fervently.
"I don't think any of us, if we get the opportunity to pray here, will command the whole group to bow five time on their face and pray, or any other system like that," he said. "But there are those praying against what you're doing, against what you represent."
Bill White said those kind of prayers aren't the kind that would be offered by the members of the community.
Gary Souza of the Ketchikan Church of Christ said he respects those who disagree, but he believes Ketchikan would benefit from more prayer.
"The real issue is whether or not you believe that in your personal wisdom, you can make better decisions by yourself as this governing body than you can by appealing to almighty God," he said. "That's a rhetorical question. Of course you cannot."
Two speakers turned in petitions bearing signatures of those in favor of prayer before meetings.
On the other side of the issue were eight speakers. Don Westlund said the Assembly is not a church; it's a place of government business.
"You will alienate me from this assembly if you pass ordinance 1740, because I do not believe in God," he said. "And there's other people who probably do not."
Becky King said that just because prayer is traditional, or that other legislative bodies are praying or have prayed in the past, doesn't mean the Ketchikan Assembly should make it part of the agenda.
"Giving it an official place on the agenda makes me feel that if I don't pray, and do not participate, you will not give my opinions the same weight as someone who does," she said. "I will not be voting for anyone who supports this proposal. You are here to unite the community, not needlessly divide it."
During Assembly discussion of the issue, several members noted that there is nothing in borough code that prevents anyone from offering a prayer during the regular public comment. But by placing prayer on the agenda, Alan Bailey said he's worried the Assembly would alienate some members of the community.
John Harrington described his devoutly religious background and his belief that prayer would help the Assembly make better decisions. He went on to say that he was not in favor of the ordinance.
"This is something that's personal between us and our creator," he said. "This is something that we need to bring to this table as part of our decision making process."
Assembly Member Glen Thompson was one of the sponsors of the ordinance. When it became clear that it wasn't going to pass, he offered an amendment that would have placed the issue in front of voters during the next regular municipal election.
"I think this is an important question. There are people who personally believe around this table this is something we should do, but I think they also feel it's not necessarily our place … to make a question of this magnitude and this importance for the people," he said. "Therefore, by putting this section in here and passing the ordinance as a referendum to the people, we'll put the question in front of the voters."
The amendment failed, although Harrington and Bailey said they would welcome such a ballot proposition if it came before them as a citizens' initiative.
The main motion to add prayer to the regular Assembly agenda then failed 2-5. Thompson and Assembly Member Jim Van Horne voted yes.
After the vote, Pastor Bill White asked for a clarification. He wanted to make sure it would be OK for him or anyone else to offer a prayer during public comment, not part of the regular meeting agenda.
Mayor David Landis said the presiding officer has leeway about what is allowed during public comment.
"Personally, I would enjoy hearing from you," Landis said.
Later, Assembly Member Todd Phillips said he was a little worried that public comment might be taken over by people coming to pray.
In other business, the Assembly voted 6-1 to intervene in the Big Thorne Timber Sale lawsuit, with Bill Rotecki dissenting. The lawsuit seeks to halt the Big Thorne sale on Prince of Wales Island. It was filed by the Southeast Alaska Conservation Council and names the U.S. Forest Service as the defendant. The borough will intervene on the side of the Forest Service.