Most Southeast legislative candidates oppose a ballot measure to tax and regulate marijuana. The same is true for the Bristol Bay initiative, which calls for legislative review for large mines in the region. But the majority of those running for office support increasing the minimum wage.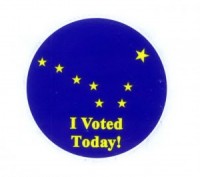 When it comes to pot, there's little doubt where most Southeast legislative candidates stand.
Some cite scientists, others quote prosecutors. Still others point to the privacy clause of Alaska's Constitution.
But the majority just say "No."
"The whole area of moving forward in a wide-scale legalization of marijuana is a mistake," says Republican Cathy Muñoz, a Juneau lawmaker running for re-election.
"I think frankly we need to look at what is happening in Colorado and Washington before we jump full-on into this new industry."
She's joined by fellow Republicans Steven Samuelson of Petersburg, Chere Klein of Ketchikan and Tom Williams of Juneau. Capital City Democrats Sam Kito and Dennis Egan are also in the "No" camp. So is Ketchikan independent Dan Ortiz.
Muñoz's opponent is in the "Yes" camp.
"When people want to go get some beer … you go to a place that sells it, you're not breaking the law. You're not entering into the criminal society," says Democrat George McGuan, who is challenging Muñoz to represent Juneau's Mendenhall Valley and neighborhoods to the north.
"When people go to buy marijuana, they have to get it from a drug-dealer who's breaking the law, and whoever supplies that drug dealer is breaking the law a little bit more, and whoever supplies that person is breaking the law a little bit more. So you get closer to harder and harder drugs," he says.
The other "Yes" vote is Juneau Republican Peter Dukowitz. Sitka Democrat Jonathan Kreiss-Tomkins doesn't state his position
So the count is two for and seven against.
Read Ballot Measure 2, An Act to Tax and Regulate the Production, Sale and Use of Marijuana.
Southeast legislative candidates are even more united on the Bristol Bay ballot measure.
Eight of the ten oppose it. Some say it would increase bureaucracy, others that it could end up helping the Pebble Mine win state approval.
Voting "Yes" are Ortiz and Kreiss-Tomkins, who say the measure would protect the watershed.
Read Ballot Measure 4, An Act Providing for Protection of Bristol Bay Wild Salmon and Waters Within or Flowing Into the Existing 1972 Bristol Bay Fisheries Reserve.
Then there's the minimum-wage ballot measure.
"It makes good economic sense to me to raise the minimum wage," says Ketchikan Independent Dan Ortiz, one of eight Southeast candidates supporting the ballot measure.
"As we have moved forward and the cost of living has increased … from to year, a person who is working for a minimum wage still falls well short, or well below, the poverty level. So our society ends up paying for that," he says.
Others in the "Yes" column are Democrats Egan, Kito and McGuan of Juneau and Sitka's Kreiss-Tomkins. Republicans Samuelson of Petersburg and Munoz of Juneau will also vote for the measure.
But three Southeast Republicans oppose the minimum-wage hike.
"As a businessperson, I do not like the government telling me what to pay someone or when I need to give them a raise," says Ketchikan Republican Chere Klein, who's running against Ortiz.
"By increasing this minimum wage, it may very well be that smaller business having to do away with fringe benefits that they currently are able to offer. It may be that they can't offer insurance any longer. Or they might not be able to offer a retirement plan. And I think those are huge benefits that people count on," she says.
Other opponents are Republicans Williams and Dukowitz of Juneau.
Read Ballot Measure 3, An Act to Increase Alaska's Minimum Wage.