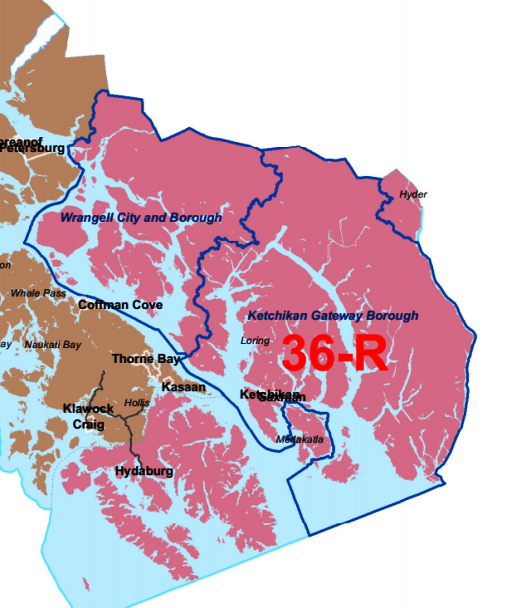 The House District 36 race remains too close to call after Tuesday's general election. With all 10 precincts reporting to the Alaska Division of Elections, Dan Ortiz, who is not affiliated with any party, has a 19-vote lead. He holds 50.03 percent of the vote, compared to 49.66 percent for Republican Chere Klein.
Ortiz had been trailing by a narrow margin throughout the race, but the final precinct's numbers pushed him into that slim lead. He now has 2,608 votes compared to Klein's 2,589.
The race will be decided by absentee, questioned and early ballots, which could take a week or more. The state Division of Elections expects to certify Tuesday's election results by Nov. 28.
Neither House District 36 candidate has held elected office before, although Klein has worked as an aide for retiring Rep. Peggy Wilson of Wrangell. Ortiz is a longtime teacher in
Ketchikan, and said the race was challenging. Part of that challenge was running without a political party behind him.
"Without the organized party behind you, it was more problematic because so much more had to come from my team and my volunteers, so that was probably – I didn't realize how much of a challenge it would be to run as an independent," he said.
Ortiz said he and his campaign team were very excited about the last numbers that came in late Tuesday night.
"However, it's still too close to call, so we'll just have to wait until all those numbers have officially come in," he said. "Thanks to everyone in District 36 who voted."
Klein agrees that the race is definitely too close to call, but said she'll be happy with whatever the voters have decided.
Klein said the campaign wasn't more challenging than she expected it to be. She has been involved in campaigns previously, even though this is her first bid for office.
"It had a few wrinkles here and there, certainly a little different than a straight-Democrat,
straight-Republican ticket, but a lot of fun, actually," she said. "Very enjoyable."
Klein said that for her, the campaign reinforced the need to connect with voters on a personal basis.
"Just how important it is to go door to door and make sure you're talking to people and
understand people's views, and willingness to listen to other views," she said.
Both candidates thanked each other for a well-run race. And we'll all wait to see what happens with absentee, questioned and early ballots.
House District 36 covers the southern tip of Alaska's Southeast region. It includes Ketchikan, Saxman, Wrangell, Metlakatla, Hydaburg, Hyder, Loring and Myers Chuck.